Introduction
India's beauty and grooming industry has witnessed remarkable growth over the years, driven by the increasing demand for quality salon services. With the rise in disposable incomes and changing consumer preferences, the salon franchise sector has become a thriving market in the country. In this article, we delve into the world of beauty and wellness to unveil some of the most prominent beauty parlor franchises across the country.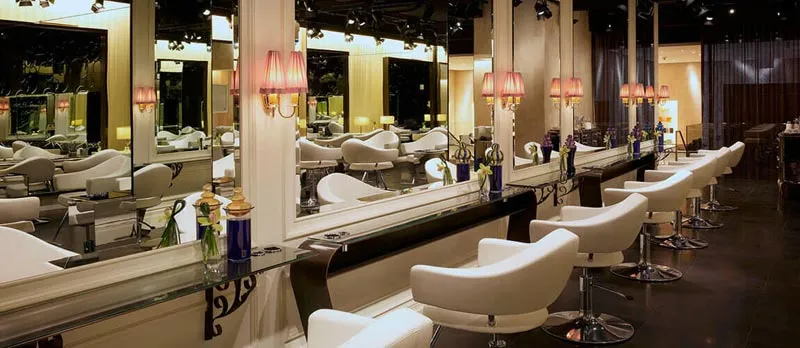 Salon franchise in India is a fast-growing sector where more local and international brands are expanding their presence across the country.
Below, there is a list of some of the most renowned salon franchise businesses:
Shahnaz Husain

Renowned for her astonishing and ageless allure, Shahnaz Hussain has established a chain of salons that reflect her captivating persona. The Shahnaz Hussain group is a highly acclaimed salon franchise in India, revered for its commitment to utilizing Indian Herbal and Ayurvedic methods to fulfill customers' beauty needs. These salons embody a harmonious fusion of luxurious settings and ancient beauty traditions, offering a unique experience that caters to discerning clients.
With a franchise opportunity that extends to both salon establishments and international training centers, the Shahnaz Hussain group invites entrepreneurs and beauty enthusiasts alike to be a part of their remarkable journey. By embracing this beauty parlour franchise, individuals can immerse themselves in the legacy of Shahnaz Hussain, leveraging her renowned expertise to create exceptional salon experiences.
Lakme

Lakmé Salon is one of the biggest salon franchise chains in India, which is owned by India's FMCG company, Hindustan Unilever Ltd.  Lakme has a team of over 22,000 professional beauty experts and hairstylists with over 240 stores across the country.
This is still the most profitable salon in India.  If you want to venture into the cosmetic franchise business in India, choosing Lakme will be a great choice.  Collaborated with growing business partners like Unilever as well as top cosmetic houses like Milan-based intercos Italia, Schwann stabile Germany and Paris-based fiabila, you cannot be going wrong with this salon franchise brand in India.
Lakme uses the 6P Entrepreneur model to set up potential franchises in India- place, people, portfolio, process, promotion as well as personality. These include proper training as per the Lakme training academy of new beauty experts and hair stylists, innovation, and IT support.  With an investment range of INR 50-60 Lakhs and minimum square feet of 900, though this is a little expensive, this is a salon brand in India which requires its franchisee partners to be superior to giving the best service and passionate towards the brand.
Jawed Habib Hair and Beauty Salon
Jawed Habib himself is a renowned name, celebrated for his exceptional skills and expertise. The trust placed in his brand extends beyond his services to encompass his line of trusted products. Consequently, opting for a Jawed Habib salon franchise presents an enticing opportunity for substantial profitability.
The Jawed Habib salon franchise requires an area ranging from 600 to 1000 square feet, providing ample space to create a welcoming and stylish environment. The services offered by this franchise encompass a comprehensive range of hair treatments, as well as indulgent manicures, pedicures, and facial treatments. By catering to the diverse beauty needs of clients, your Jawed Habib salon can become a one-stop destination for head-to-toe transformations.
Chop-Shop
One of the hippest little barbershops, side of the Himalayas, Chop-Shop is a male-focused grooming salon business in India which was established in 2018.  This brand draws grooming services from a North American style by offering exceptional hair and beard grooming and other services for men and kids.  With an easy-to-navigate e-hub, this brand offers the best quality training from their GBBA level 3 UK-certified barbers.
They support and ensure the best quality services to their franchisees.  With an investment of around INR 40-50 lakhs and an area of square feet of 1000-2000, you can start a salon franchise in India with this brand and expect high returns on investment.
Naturals Salon
Naturals Salon is a prominent name in the beauty and grooming industry in India, offering a range of services to cater to diverse beauty needs.
One of the most enticing aspects of partnering with Naturals Salon is the extensive training and support provided to franchisees, especially for those venturing into business for the first time. Naturals Salon also offers an attractive pay-back period, typically ranging from 2.5 to 3 years. In addition to financial and operational support, Naturals Salon offers ongoing assistance in marketing and branding.
Truefitt & Hill
With a rich heritage dating back to 1805, Truefitt & Hill is renowned as the world's oldest barbershop and holds a prominent place in the grooming industry. Now, you have the chance to bring this heritage and excellence to India through exclusive franchise opportunities.
As a franchisee, you will have the privilege of representing this esteemed brand, offering a range of tailored services that cater to the discerning tastes of the modern gentleman. From classic shaves and haircuts to personalized grooming experiences, Truefitt & Hill sets the benchmark for unrivaled elegance and attention to detail.
Studio11 Salon and Spa
This is one of the best salons for Indian men and women because it is a unisex salon and one of the fastest spa chains in India, founded in 2013.  Studio 11 salon and spa has over 125 franchises in India. To franchise with this salon brand in India, you would need to invest an amount of INR 30-50 lakhs, with a minimum square feet area of 800-1500.
Juice Salon
Juice Salon is actively seeking franchise owners like you who can help take the brand to new heights. As a franchisee, you will have the opportunity to collaborate with Juice Salon, a leading name in the industry, and contribute to its continued success.
Juice Salon is committed to supporting its franchise owners every step of the way. From devising effective marketing strategies to evaluating ideal locations, designing captivating salon interiors, and establishing seamless operational systems, Juice Salon will provide comprehensive assistance to ensure your success. Juice Salon's royalty structure is set at 9%, allowing you to enjoy the fruits of your hard work while still contributing to the brand's growth and development.
Green Trends
This is a salon brand which has always been at the forefront of trendy makeovers. This brand provides a warm and friendly atmosphere to its clients along with a guaranteed experience with their skilled and professional stylists. Spread over 50 cities across the country, as a franchisee you will be able to pick up 18+ years of experience and knowledge of running the business chain. To join hands with this top brand, you would need to invest INR 32-55 lakhs with an area square foot of 800-1800.
Cut & Style
Cut and Style Salon has become the go-to destination for individuals seeking a fresh look at a reasonable price. The brand sets itself apart by providing support with site selection, a process typically handled prior to the agreement. In addition, Cut and Style offers technical support, design and interior ideas, and comprehensive training to ensure a successful franchise journey.
Neeldavid's International Salon
Step into the world of Neeldavid's International Salon, a brand dedicated to fashion and trends, offering a comprehensive range of top-notch hair and beauty services. With a strong focus on quality, Neeldavid's International Salon has emerged as a frontrunner in the hair fashion industry in India. The hallmark of Neeldavid's International Salon is its commitment to quality. With a successful business model in place, the franchise offers tremendous potential for income generation.
With 250-1500 sq. ft. required area, they promise a 40% profit margin in the initial years. Royalty Commission will be 15000 every month. Embrace the opportunity to be part of Neeldavid's International Salon, where fashion meets quality, and unlock the potential for a thriving business in the dynamic hair fashion industry.
Strands Salon
Strands Salon is dedicated to transforming your strands into luscious, glossy locks. With a required area ranging from 800 to 2000 square feet, there is ample room for customization and growth. The facilities provided by Strands Salon are immense, promising an impressive return on investment ranging from 40% to 160%, along with comprehensive training and effective marketing strategies.
Embrace the opportunity to join Strands Salon and tap into their immense facilities, impressive return on investment, and comprehensive training and marketing support.
Vikas Marwah's Hair
Vikas Marwah's Salon specializes in delivering signature haircuts that embody the latest trends and showcase edgy styles. With a team of skilled professionals, the salon offers cutting-edge hairstyles that leave clients feeling fashionable and confident. Alongside the hair services, Vikas Marwah's Salon also provides a range of trendy beauty treatments that cater to the evolving beauty needs of its clientele.
By capitalizing on the salon's current appeal and consistently delivering exceptional services, you have the potential to turn Vikas Marwah's Salon into a highly profitable venture
Louis Unisex Salon
Louis Unisex Salon is a globally recognized and trusted name in the salon industry. With a vast network of approximately 4000 salons spanning over 90 cities, Louis Unisex Salon has established its presence both nationally and internationally. When you secure this franchise, your path to success is paved, as the brand offers comprehensive solutions for marketing, design, training, and business planning.
Shab's Beauty Salon
Shab's Beauty Salon and Bridal Studio understands the importance of comprehensive support in ensuring franchise success. With a strong commitment to assisting franchisees, Shab's Salon provides complete support in training and designing, catering to all the needs of the franchise. The brand is renowned for its exceptional pre and post-training solutions, ensuring that franchisees have the necessary tools and resources to flourish.
With a focus on providing exceptional services, Shab's Beauty Salon and Bridal Studio has become a go-to establishment for individuals seeking top-quality beauty treatments and bridal services.
Louis Unisex Salon
Having a presence in over 90 cities internationally, this is a salon brand which has gained countless approvals from customers over 29 years, because they endorse beauty as a mix of style, charisma, and youthfulness.  This salon offers a variety of services from hair styling to grooming.
They are open to franchise partners looking to start their venture because of their ample knowledge and experience with the salon industry making it an industry people can trust relying on. This is an appealing opportunity for entrepreneurs because of its low initial investment, and operational and workforce costs.  You can start a Louis Unisex Salon franchise in India with an investment of INR 5 lakhs.
Looks Unisex Salon
Looks salons are extremely popular among young Indians for their trendy hairstyling techniques. Renowned for their ability to stay ahead of the curve, Looks Salons offer a wide range of services, including beauty treatments and massages. With a required area of just 250 square feet, Looks Salons prove that great things come in small packages. To maintain their exceptional standards, Looks Salons ensure that their staff is highly trained and excels in the field.
Geetanjali Salon
Geetanjali Salon has traversed an incredible journey, transforming from a small-town salon to a prominent group in the Indian market. The brand's growth is a testament to its commitment to excellence and customer satisfaction. Geetanjali Salon provides exceptional support to its franchisees, offering comprehensive training, marketing assistance, and expert salon design. With its rich history and outstanding reputation, Geetanjali Salon is a name that resonates throughout the market.
Conclusion
Salon franchises typically offer comprehensive support to their franchisees. This support can include assistance in site selection, salon design and layout, marketing strategies, staff training, operational guidance, and ongoing support to ensure smooth operations and success.