In the dynamic realm of contemporary business, equipping oneself with the right tools is paramount to success. A reliable, high-performance laptop is a cornerstone for professionals aiming to streamline workflows and boost productivity. In this comprehensive guide, we'll delve into the top business laptops of 2023, each tailored to cater to different needs and preferences.
1. Lenovo ThinkPad X1 Yoga Gen 8: The Epitome of Business Elegance
The Lenovo ThinkPad X1 Yoga Gen 8 is a model that stands out as the perfect embodiment of a business laptop's ideal design and functionality. Its performance may not be flashy, but its simplicity is undeniably appealing. This laptop's 13th-generation Intel Core i7 CPU and Intel Iris Xe Graphics make it ideal for professionals who need to do many tasks at once.
The ThinkPad X1 Yoga Gen 8 has up to 32GB of LPDDR5 RAM and a large 1TB–4TB PCIe NVMe M.2 SSD, making it ideal for intensive computing. The 14-inch 16:10 display is spacious enough to support many windows and apps, making it an excellent workspace. Professionals on the go will appreciate the laptop's well-thought-out keyboard, trackpad, and port options. The ThinkPad X1 Yoga Gen 8 is an investment that pays off in increased productivity thanks to its superior durability, quality, and performance, but it comes with a hefty price tag.
2. Acer Travelmate P4 TMP414-51: Budget-Friendly Efficiency
For 2023 professionals looking for a budget-friendly but powerful business laptop, Acer's Travelmate P4 is a great alternative. Thanks to its 11th-generation Intel Core i5 CPU and Intel Iris Xe Graphics, it's a good compromise between speed and price. With up to a 512GB SSD M.2 PCIe and 8GB of DDR4 SDRAM, it has enough power for commonplace chores like word processing and web surfing.
The Travelmate P4, despite its plastic body, boasts a fast CPU that guarantees lag-free performance even when faced with modest workloads. Working professionals may rely on the device's long battery life to keep up their efficiency all day. The fact that it can be upgraded to improve performance as required is a significant selling point, making it a versatile option for professionals on a tighter budget.
3. Apple MacBook Air 15-Inch (2023): A Bigger Perspective on Business Laptops of 2023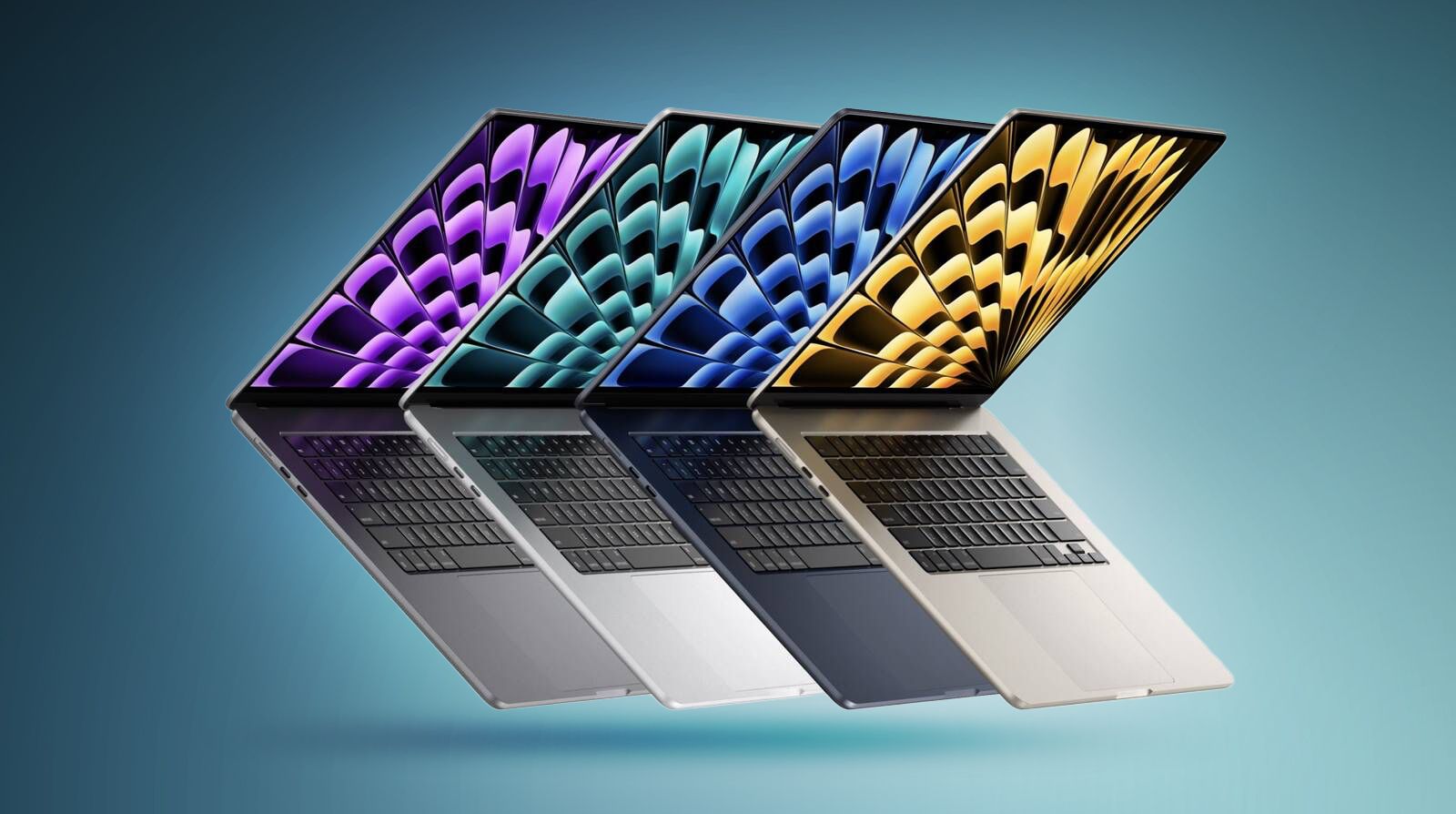 The Apple MacBook Air 15-inch (2023) defies expectations with its bigger screen, satisfying the needs of future professionals who will benefit from having more room to work with. It boasts excellent performance thanks to its Apple M2 8-core CPU and 10-core integrated GPU, allowing for lightning-fast responsiveness and seamless multitasking. With support for up to 24GB of DDR5 RAM and 2TB of SSD, it can handle demanding workloads with ease.
The Liquid Retina display on the 15.3-inch screen makes this laptop a tempting option for visual tasks like photo and graphic creation. Despite its increased size, it has kept its sleek look, making it ideal for professionals who are often on the road. This MacBook Air model offers speed, value, and a more prominent visual canvas for individuals committed to the Apple ecosystem.
4. Asus Zenbook Pro 14 Duo OLED: Unleashing Creativity with Business Laptops of 2023
The Asus Zenbook Pro 14 Duo OLED's groundbreaking new dual-screen design revolutionises laptop efficiency. It's a workhorse for professionals in the creative industries, thanks to its 13th-generation Intel Core i9 CPU and Nvidia GeForce RTX 4060 GPU. It provides large memory (up to 32GB) and storage space (up to 2TB of SSD) for demanding applications.
The key selling point is the additional touchscreen, which makes switching between tasks much more natural. This cutting-edge function enables experts to keep their most-used resources and reference materials close at hand without sacrificing valuable desk space. With its gorgeous OLED screen, this laptop is a content creator's dream since it displays colours faithfully and allows for refined editing. The trackpad's unusual positioning aside, this laptop is a top pick for anybody working in the creative field because of its powerful performance and innovative features.
5. Lenovo Yoga Book 9i: Dual Displays, Luxurious Design for Business Laptops of 2023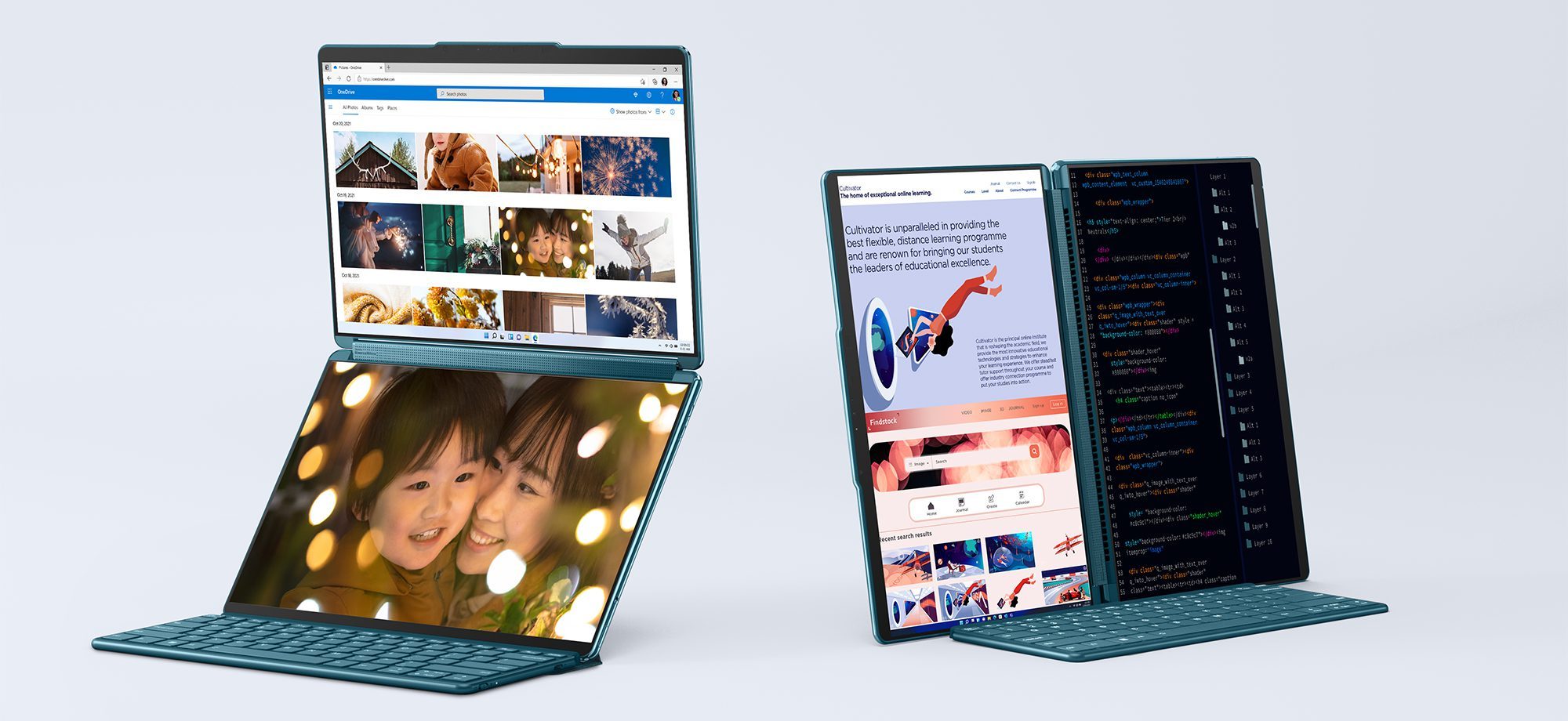 The Lenovo Yoga Book 9i, with its elegant, lightweight design and innovative dual-display idea, reimagines what is possible in terms of multitasking and productivity. It has a 13th-generation Intel Core i7 processor, Intel Iris Xe graphics, up to 1TB PCIe SSD, 16GB of LPDDR5X RAM, and an appealing design. The two monitors provide an adaptable environment for professionals engaged in simultaneous jobs or innovative projects.
The Yoga Book 9i's sensitive IR camera and sleek exterior give it a premium feel without sacrificing any of its practicality. An appealing option for multitaskers, it offers a smooth and accessible platform for professionals to get more done in less time, thanks to its two screens and high-end capabilities despite the high price tag.
6. Getac B360 Pro (2023): Rugged Performance for Challenging Environments with Business Laptops of 2023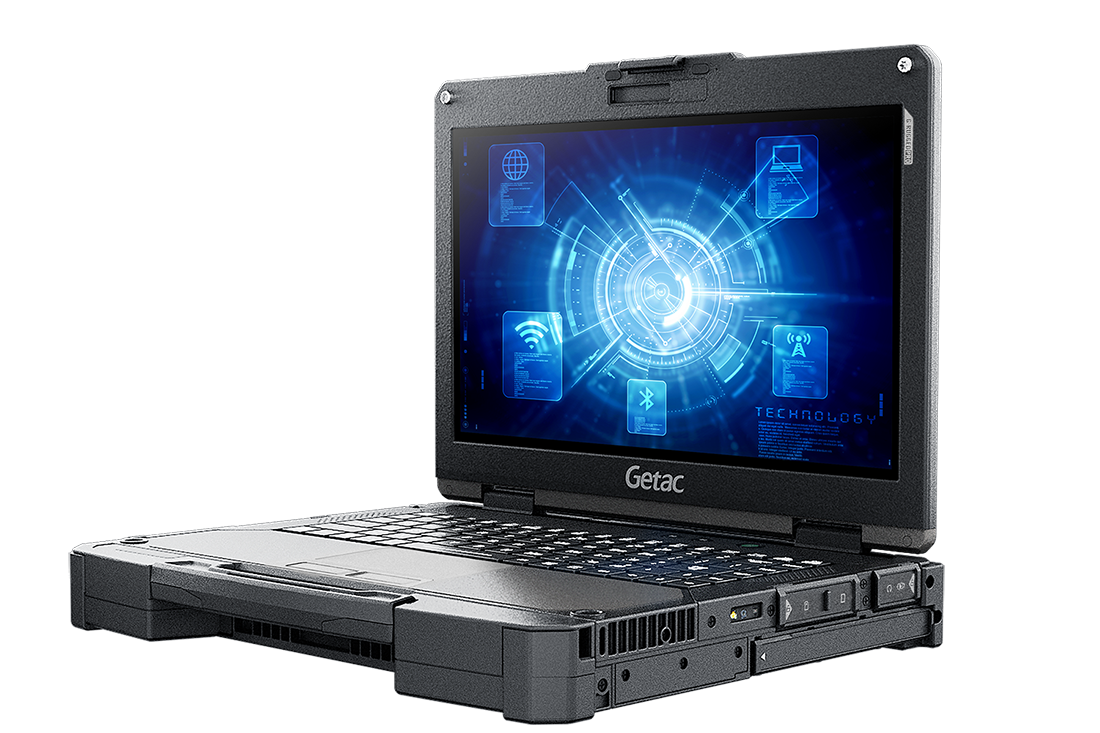 The Getac B360 Pro (2023) is designed for hard-working professionals who rely on their equipment constantly. Built for power, it can easily do everything from data analysis to CAD work thanks to its up-to-date Intel Core i7 vPro processor, Intel Iris Xe Graphics, and Nvidia GTX 1650 GPU. Plenty of tools are available for essential jobs, thanks to the up to 2TB PCIe NVMe M.2 SSD and up to 64GB LPDDR5 RAM.
The B360 Pro's construction to military specs means it will last and function well. It is robust enough to survive drops from a height of six feet. It can work in temperatures ranging from -29 degrees Celsius to +63 degrees Celsius, making it useful in a variety of settings. Additional proof of its durability is that it has passed the MIL-STD-810H, MIL-STD-461G, and IP66 tests.
The B360 Pro's GTX 1650 graphics processing unit (GPU) and interchangeable batteries increase its adaptability for use in a variety of professional contexts. In performance benchmarks, the GTX 1650 consistently outperforms its rivals. It may be bulkier than other laptops, but its durability in harsh environments makes it a must-have for fieldwork in fields like engineering, field service, and outdoor research.
7. Dell Latitude 9440 2-in-1: Business Excellence in a Compact Package with Business Laptops of 2023
Regarding Windows laptops for the workplace, the Dell Latitude 9440 2-in-1 is the gold standard. It has powerful hardware, including a 13th-generation Intel Core i7 processor, Intel Iris Xe graphics, up to 32GB of LPDDR5 RAM, and a 1TB PCIe NVMe M.2 SSD, allowing it to handle a wide range of professional work quickly and efficiently. Applications as diverse as data analytics and programme creation may use its robust features.
The Latitude 9440 2-in-1 stands out due to its large screen with thin bezels, Haptic Collaboration touchpad, and several network connections. This laptop has dual network access, allowing professionals to stay connected while working on equally essential activities. Its high performance and long battery life are major selling points, allowing professionals to be productive all day.
The Latitude 9440 2-in-1 delivers a well-rounded solution for business workers, even though the collaborative touch capabilities may have space for growth, and some may regard the port choices as restrictive. It's important to remember that specific setups might be more expensive than others. Despite this, it is an excellent option for professionals looking for a high-quality Windows laptop for business usage because of its many valuable features and capabilities.
8. Framework Laptop 13 7040 Series: Modularity Redefined for Business Laptops of 2023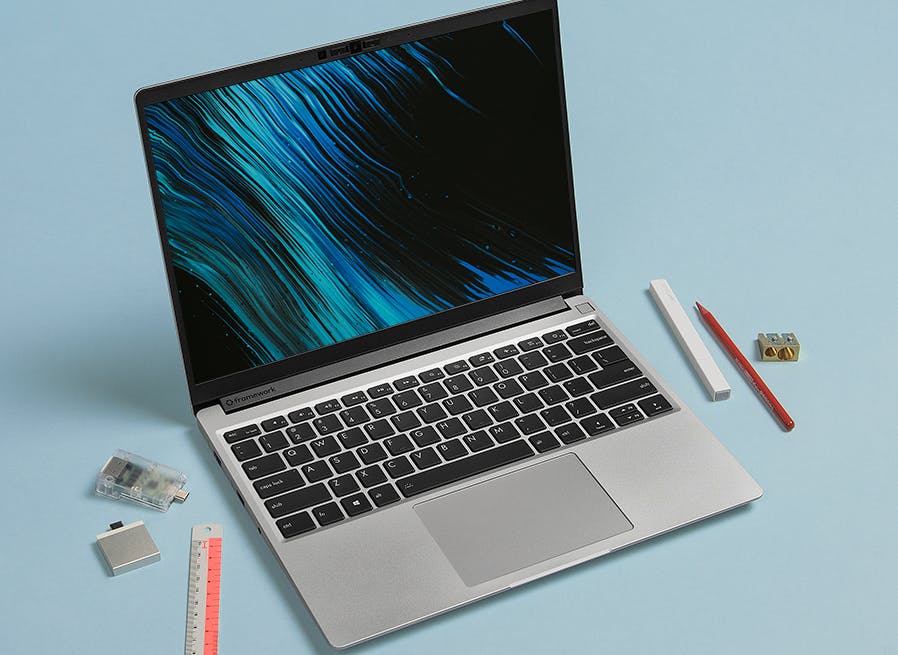 There's a new kind of laptop in town, which goes by the name "Framework 13 7040 Series Laptop." It can handle a wide variety of professional tasks thanks to its fast AMD Ryzen 7 7840U CPU, Radeon 780M graphics, and up to 32GB of RAM. It has modular external ports and internal components for easy upkeep and expansion.
Framework's novel approach prioritises user preferences, allowing for the customisation of external ports. This proposal shifts the emphasis away from just reducing prices and offers users more say over how well their computers satisfy their requirements. The Ryzen 7040 Series, which uses the latest Zen mobile CPUs, offers dependable performance and is well-suited for a broad range of commercial applications.
The modular concept of Framework adds a new level of flexibility. However, it may be more expensive than non-modular alternatives with the same capabilities, and the manufacturer only offers a one-year warranty. The Framework Laptop 13 7040 Series stands out as a unique and exciting alternative to the standard business laptops of 2023 because of its gorgeous design and flexible port options.
Conclusion
Choosing the best business laptop in 2023 is critical because the professional IT world is changing quickly. This list features laptops that may meet a variety of professional requirements, from extreme durability to flexible use in the creative process. This guide will help professionals get the best business laptop for their needs in 2023 by pointing them in the right direction as they narrow their options. Having the appropriate laptop dramatically increases productivity and success in the modern business scene, whether working in the field, making multimedia content, or doing business on the go.