Introduction
Puma SE, branded as Puma, is a German multinational corporation that designs and manufactures athletic and casual footwear, apparel and accessories, which is headquartered in Herzogenaurach, Bavaria, Germany. The business Model of Puma is Business Plan, revenue model, SWOT Analysis and many more. Puma is the third largest sportswear manufacturer in the world.
Rudolf created a new firm that he called "Ruda", from "Ru" in Rudolf and "Da" in Dassler. A few months later, Rudolf's company changed its name to Puma Schuhfabrik Rudolf Dassler in 1948.
Puma and Adidas entered a fierce and bitter rivalry after the split. The town of Herzogenaurach was divided on the issue, leading to the nickname "the town of bent necks"—people looked down to see which shoes strangers wore.
Competitors
PUMA competitors include:
SWOT Analysis
Strengths
Below are the Strengths in the SWOT Analysis of Puma:
1. Puma is established over 90 countries and employs around 14000 employees all over the world: Puma has about 14332 employees and operating in 120 nations. Puma has stores all over the world. Puma has also tie-up with Modern Trade Retailer to increase its visibility and sales.
2. Puma is the main producer of enthusiast driving shoes and racing suits in both Formula One and NASCAR.
3. It has entered into partnerships with famous companies like Ferrari and BMW.
4. Puma brand is very innovative and has a very rich Research and Development team. The Company produced the first screw boots for football and "Mexico 68" with the innovative brush soles, which were the most comfortable running shoes: Puma is investing a huge amount of money in its research and development. Puma is concentrating more on comfort, design, and usability. Puma is using screws in their running shoes to reduce frictions.
5. It has an excellent brand name throughout the world: Celebrity endorsement not only improves the image of the brand but also increases its profits. Kareena Kapoor Khan and Virat Kohli are new brand ambassador of Puma. Puma is investing a lot for its product endorsement.
6. The brand has excellent management and marketing strategies and has the advertised the products very well and eye-catching throughout the world.
7. Puma has entered into sponsorships with various players and teams in different sects of the sporting industry:  Puma invests aggressively in marketing and promotions. Puma has invested in sponsoring a number of athletes including Johan Cruyff, Clyde Frazier, Lothar Matthaus, Jim Hines, Boris Becker, Joe Namath, Tommie Smith, Linford Christie, Pelé, Diego Maradona, etc.
8. Puma sponsors global events like FIFA football World Cup, Olympics, cricket, motorsports, rugby & many other sports: Puma is also sponsoring the FIFA World Cup, and various sports around the world.
9. The brand has a strong online presence with good engagement on social media & E-commerce platforms: Puma has its own Shopping Site which makes it easy for the customers to buy Puma Products worldwide. Its sales is also increasing due to this.
Weaknesses
Here are the weaknesses in the Puma SWOT Analysis:
1.Puma has tough competition and limited market share compared to Nike and Adidas:  Nike is giving a tough competition to Puma. Nike has a wide range in its product line. These products are eating up the profitability of Puma. Nike has a market share of 32%, Reebok has a market share of 7%, Adidas has a market share of 16% and Puma has a market share of 9%.
2.High brand switching means difficult to have loyal customer base.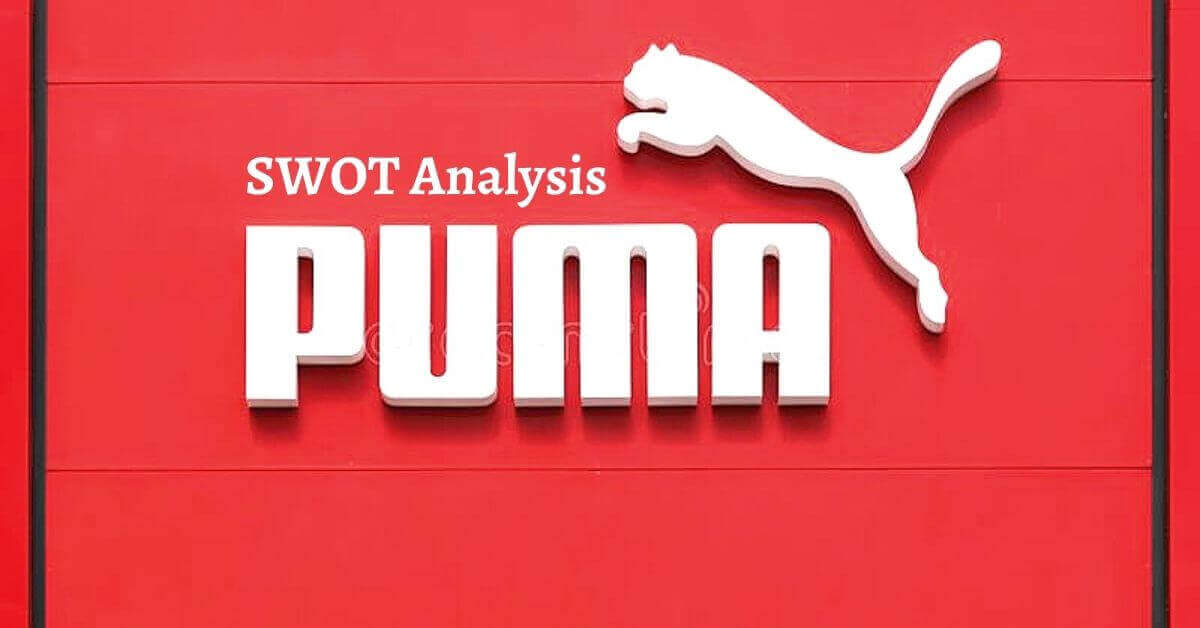 Opportunities
Following are the Opportunities in Puma SWOT Analysis:
1. The company can attain more sponsorship as more international events in the sporting industry are taking place: Due to its presence in sportswear goods and demand for sports equipment is also increasing. Puma can also diversify its business in sports equipment segments.
2. Puma can start entering the lifestyle section of the industry: Puma can also launch new developing accessories to diversify its business. Puma can also diversify its business by launching Deodorants, Soaps, and Shampoos.
3. More advertising and branding to tap newer customers
4. Puma still has to increase its foothold in the emerging market:  Increasing the income level of the people can increase sales of premium goods. Puma will tap this prospect and transform this new consumer base.
Threats
The threats in the SWOT Analysis of Puma are as mentioned:
1. Being a global brand, Puma's business is affected by recession and economic slowdown: Puma is a multinational company and operating its business in many countries. Any fluctuation in currency can directly affect the pricing and business of the company. This currency fluctuation can be a major threat in the SWOT Analysis of Puma.
2. There is extensive competition from existing players an new players which is growing in the industry:  Nike is giving a tough competition to Puma. Nike has a wide range in its product line. These products are eating up the profitability of Puma.
3. Imitations of Puma brand is extensively increasing causing losses: The imitating of counterfeit and low-quality products is also a threat to the company particularly in the emerging and moderate markets.
4. Government policies and regulations can affect business operations.
Conclusion
Puma is indeed the world's leading sportswear manufacturing company. Economic crisis, increasing competition, and lower brand differences are some of the main threats to the company. Puma should differentiate its products in terms of designs and price to avoid threats and weaknesses.