Introduction
Digital India is a flagship programme of the Government of India with a vision to transform India into a digitally empowered society and knowledge economy. Digital India was launched by the Prime Minister of India, Narendra Modi on 1 July 2015, with the objective of connecting rural areas with high-speed Internet networks and improving digital literacy.
Prime Minister Modi envisions transforming our nation and creating opportunities for all citizens by harnessing digital technologies. His vision is to empower every citizen with access to digital services, knowledge and information. This Group will come up with policies and best practices from around the world to make this vision of a digital India a reality.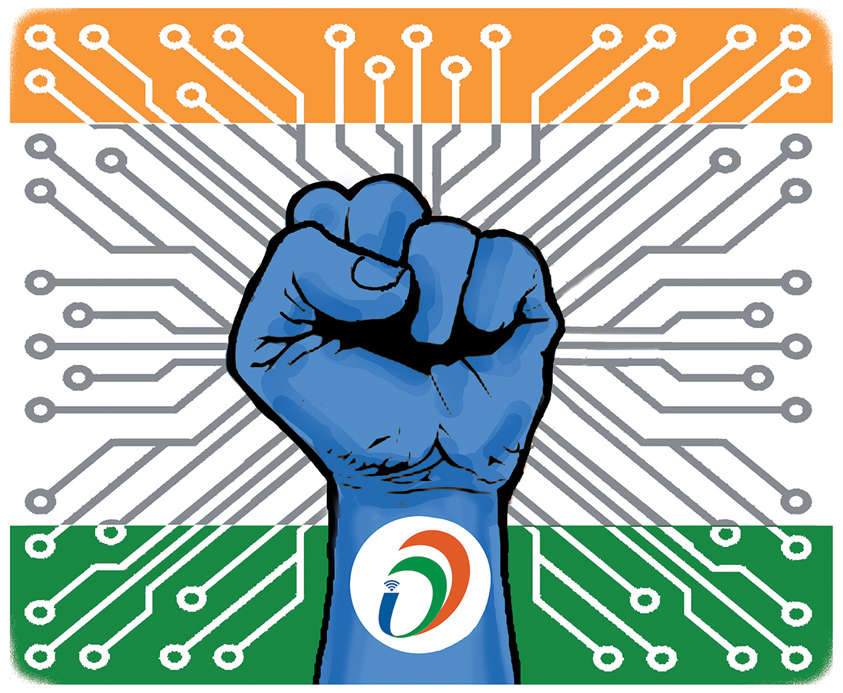 Digital India is a campaign launched by the Government of India to ensure that the Government's services are made available to citizens electronically through improved online infrastructure and by increasing Internet connectivity or making the country digitally empowered in the field of technology.
This programme has been envisaged by Department of Electronics and Information Technology (DeitY) and will impact ministry of communications & IT, ministry of rural development, ministry of human resource development, ministry of health and others. This programme will also benefit all states and union territories. The existing/ ongoing e-Governance initiatives would be revamped to align them with the principles of Digital India.
Vision
The vision of Digital India is to transform the country into a digitally empowered society and knowledge economy. It would ensure that government services are available to citizens electronically. It would also bring in public accountability through mandated delivery of government's services electronically. The Digital India programme is centered on three key vision areas:
a) Digital Infrastructure as a core utility to Every Citizen
Availability of high speed internet as a core utility for delivery of services to citizens
Cradle to grave digital identity that is unique, lifelong, online and authenticable to every citizen
Mobile phone & bank account enabling citizen participation in digital & financial space
Easy access to a Common Service Centre
Shareable private space on a public cloud
Safe and secure cyber-space
b) Governance & Services on Demand
Seamlessly integrated services across departments or jurisdictions
Availability of services in real time from online & mobile platforms
All citizen entitlements to be portable and available on the cloud
Digitally transformed services for improving ease of doing business
Making financial transactions electronic & cashless
Leveraging Geospatial Information Systems (GIS) for decision support systems & development.
c) Digital Empowerment of Citizens
Universal digital literacy
Universally accessible digital resources
Availability of digital resources / services in Indian languages
Collaborative digital platforms for participative governance
Citizens not required to physically submit Govt. documents / certificates
Mission
Digital India Mission is mainly focused on three areas:
Providing digital infrastructure as a source of utility to every citizen.
Governance and services on demand.
To look after the digital empowerment of every citizen.
Pillars
Digital India aims to provide the much needed thrust to the nine pillars of growth areas, namely,
Broadband Highways
Universal Access to Mobile Connectivity
Public Internet Access Programme
e-Governance: Reforming Government through Technology
e-Kranti – Electronic Delivery of Services
Information for All
Electronics Manufacturing
IT for Jobs
Early Harvest Programmes
Each of these areas is a complex programme in itself and cuts across multiple Ministries and Departments.
Objectives
The motto of the Digital India Mission is 'Power to Empower'. There are three core components to the Digital India initiative. They are digital infrastructure creation, digital delivery of services, and digital literacy.
The major objectives of this initiative are listed below:
To provide high-speed internet in all gram panchayats.
To provide easy access to Common Service Centre (CSC) in all the locality.
Digital India is an initiative that combines a large number of ideas and thoughts into a single, comprehensive vision so that each of them is seen as part of a larger goal.
The Digital India Programme also focuses on restructuring many existing schemes that can be implemented in a synchronized manner.
Initiatives
The Government has taken up many initiatives under the Digital India campaign. Discussed below are few such important initiatives:
Digi Lockers – This flagship initiative aims at 'Digital Empowerment' of the citizen by providing access to authentic digital documents to citizen's digital document wallet
E-Hospitals – It is a Hospital Management Information System (HMIS) which is a one-stop solution in connecting patients, hospitals and doctors through a single digital platform. Till February 2021, as many as 420 e-Hospitals had been established under the Digital India campaign
E-Pathshala – Developed by NCERT, e-Pathshala showcases and disseminates all educational e-resources including textbooks, audio, video, periodicals and a variety of other print and non-print materials through the website and mobile app
BHIM – Bharat Interface for Money is an app that makes payment transactions simple, easy and quick using Unified Payments Interface (UPI)
DIGITAL INDIA MISSION – UNION BUDGET 2021-22 HIGHLIGHTS
Proposed to develop a world-class fintech hub in Gandhinagar's Gujarat International Finance Tec-City (GIFT).
Allocated funds worth Rs. 1.15 lakh crore (US$ 15.32 billion) To digitize the Indian Railways.
Enabled funds worth Rs. 9,000 crore (US$ 1.20 billion) to compensate service providers for creating and augmenting their telecom infrastructure.
Allowed all voters to access their 'Digital voter ID card' by linking their mobile number with the election commission's website from February 01, 2021.
Conclusion
A digitally connected India is aimed at the growth of the social and economic status of the masses in the country. The development of non-agricultural economic activities could pave the path for such an achievement, for providing access to financial services, health, and education. Information and Communication Technology alone cannot directly impact the overall development of a country.