Introduction
"PayTm karoooooooo". These lines carry a tone with it and that has been on the lips of every Indian since demonetization.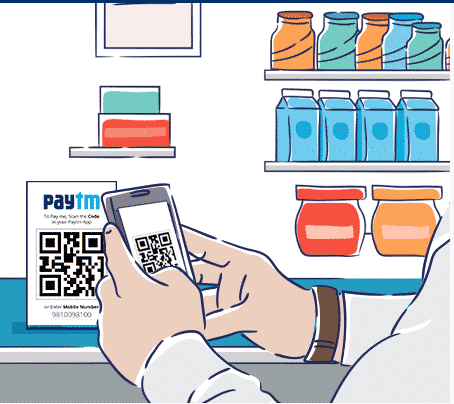 In terms of business, Paytm controlled over 14 percent of the market through 53.8 crore transactions worth Rs 60,094 crore in September'21. Paytm's total payments made to merchants (GMV) through transactions was over Rs. 4 lakh crores in 2021.
Background
Paytm was founded in August 2010 with an initial investment of US$2 million by its founder Vijay Shekhar Sharma in Noida, Delhi NCR. It started off as a prepaid mobile and DTH recharge platform. Later, it started adopted different payment gateways and payment options.
Today, it has different segments and is going on adopting multiple operations and creating different add-ons.
Business Model
Paytm offers payment services, commerce and cloud services, and financial services to 337 million registered consumers and over 21.8 million registered merchants. Paytm's two-sided (consumer and merchant) ecosystem enables commerce. It provides access to financial services through its financial institution partners by leveraging technology to improve the lives of its consumers and help merchants grow their businesses. Consumer and merchant engagement is core to Paytm's business model and unit economics.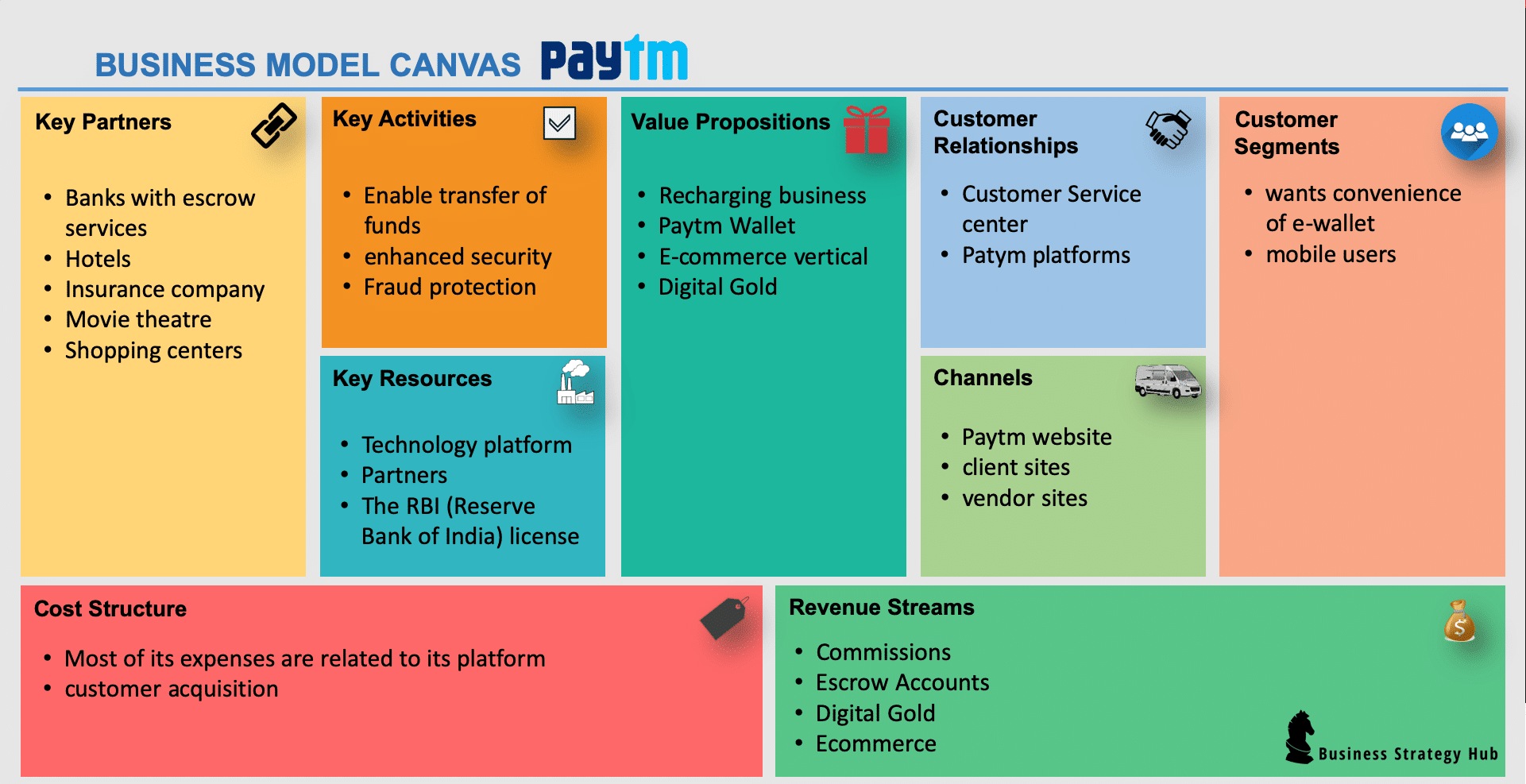 Revenue Model
For its payment services, Paytm primarily generate revenues from:
The transaction fee that Paytm charges its merchants is based on a percentage of GMV.
Consumer convenience fees that Paytm charge its consumers for certain types of transactions.
Recurring subscription fees from merchants for certain products and services, such as Paytm Soundbox and POS.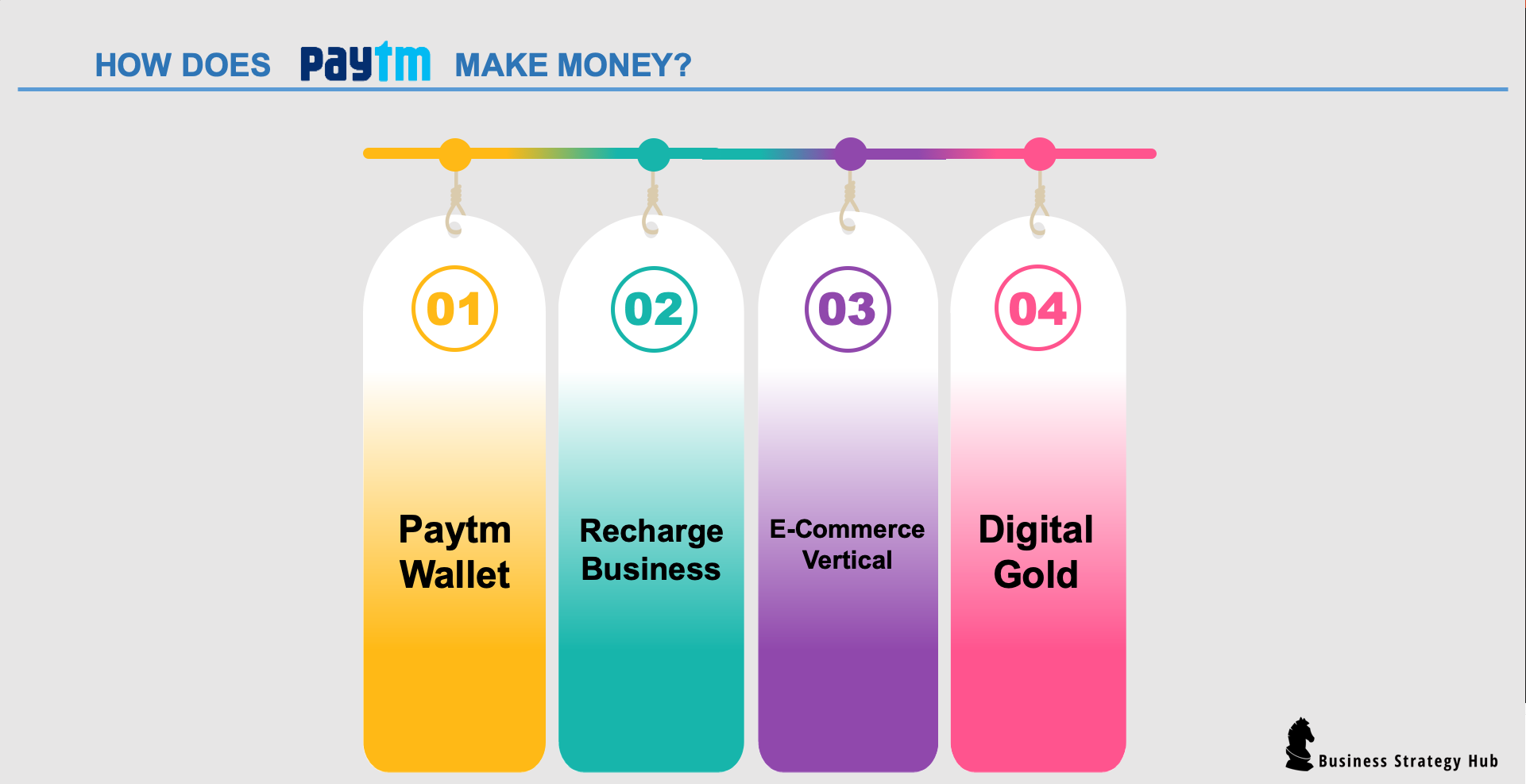 For its financial services, Paytm generate revenue depending on the type of services offered and, through its financial institution partners on its platforms (i.e., lending, insurance, and wealth management) and within each business, the type of product.
Expenditure
Paytm's major expenses
Payment processing charges (40%)
Marketing and promotional expenses (11%)
Employee benefits expenses (25%)
Software, cloud and data center expenses (7%)
Depreciation and amortization expenses (4%)
Finance costs (1%)
Other expenses (12%)
SWOT Analysis
Strengths
First mover advantage: Paytm was the first online payment company to set up operations in India. Their timing was perfect since they started operations at around the same time when smartphones started becoming popular.
Offers: Paytm has been able to grab and hold the attention of customers primarily because of the never-ending offer stream it has been announcing.these are custom designed with the Indian mindset in the frame and thus works like magic for zooming sales.
Tie-ups with merchants: Paytm can be used to transact with more than 3 million merchants across India and the number is said to be growing every day. This makes Paytm an easy shopping option for most customers irrespective of their economic background or education.
Convenience options: Paytm is an epitome of convenience since it is operational round the clock and facilitates easy payment or transfer of funds anytime, anywhere. This makes it increasingly accepted by an urban population who rely on online shopping for even daily use items.
Bucket of services: Most of what one desires to do online can be done through Paytm.In addition to the Paytm Wallet, today the brand has online reservation facilities, online retail, and online recharge and there is also no need to go through payment gateways of you are using paytm.
Weaknesses
Need for IT infrastructure: If Paytm functions have to be robust there has to be good bandwidth and speed. This may be there in most cities in India but may not the case in remote locations or even tier 2 towns.
Fear of going cashless: Most Indians are used to transacting on cahs and are yet to get used to being used to cashless transactions. However, with digitization and demonetization, things are expected to pick up and this will help online wallet services.
Opportunities
Growing demand for aggregators: Aggregators and middlemen are in demand everywhere today.With growing technology usage people prefer to make most payments from the convenience of their homes.This has increased the role of payment aggregators in India.
Demonetisation: One of the services that benefitted heavily from the Indian government's demonetization drive was online payment services and Paytm was one of the biggest beneficiaries. In a move to digitize the country, such services will have more opportunities coming their way.
The surge in the number of working professionals: The number of working professionals are increasing profusely. This means that for most couple's time is scarce making them rely more on home delivery services for their sustenance. When the demand for online shopping increases there will be a corresponding increase in the payment portals as well.
Threats
Competition: With lowered barriers to entry, every new entrepreneur is looking at aggregating services. There are a lot of online portals like pay charge, mobikwik etc and even telecom service providers like Airtel and Vodafone are providing online payment gateways.
Growing concerns about safety: Today there is negative imagery of information security and tracking of shopping habits. There is also growing concerns about how safe the information submitted to payment portals are and the level to which such portals or payments made through them are monitored.
Conclusion
PayTm is an infamous brand and a revolutionary app in the digital payment environment. Its Success has been witnessed by everyone in the world. Though its recent IPO debacle, it is still growing strong.