The state capital of the Indian state of Uttar Pradesh is the city of Lucknow. It is known not only for its old buildings and cultural past but also for the busy markets you can find there. Lucknow is an excellent place to go shopping because it has a wide range of goods, from antiques to modern clothes and items. If you will be in Lucknow for a while, you should visit these ten best markets, a shopper's delight.
1. Hazratganj Market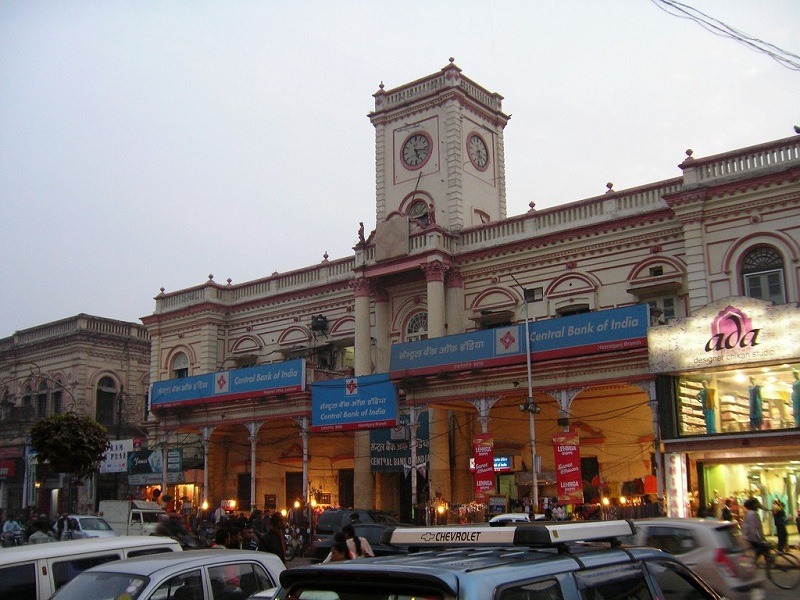 Hazratganj Market is one of the oldest markets in Lucknow and is located in the middle of the city, making it a lively and busy core of the city's activities. It is the epitome of combining the best of both traditional and contemporary shopping experiences. There is something for everyone in Hazratganj, from upscale shops and luxury stores to street sellers selling traditional Chikankari needlework and Lucknowi handicrafts.
2. Aminabad Market
Shoppers searching for authentic Lucknowi clothing, jewellery, and handicrafts should go to Aminabad Market. This market is a veritable treasure trove. The beautiful Chikankari work sold at this market made it renowned in the first place. Chikankari is a traditional kind of embroidery that Lucknow is famous for. Here, you can discover a diverse selection of Chikankari kurtas, lehengas, and sarees. Always remember to haggle to receive the best prices!
3. Chowk Market
The Chowk Market is on our third list of the best markets in Lucknow and is a lively and busy marketplace that is well-known for its street food and traditional shopping. It is situated close to the renowned Chowk crossroads. Jewellery, fragrances, ittar (a classic scent), and beautiful cutlery are just some of the products that can be purchased here. The winding alleyways of Chowk Market emit an alluring air of yesteryear that is difficult to ignore.
4. Nakhas Market
The Nakhas Market is a paradise for anyone passionate about antiques and jewellery. This is among the well-known markets in Lucknow for the gold and silver jewellery it sells, particularly the traditional Jadau jewellery worn in Lucknow. You may discover items that have been skillfully created and are decorated with valuable jewels and detailed patterns. Nakhas Market is the place to get one-of-a-kind jewellery in Lucknow if that's what you're searching for.
5. Yahiyaganj Market
Those searching for fabrics and textiles will find their dream destination at the Yahiyaganj Market. It is one of the best markets in Lucknow for its extensive selection of brocade, silk, and cotton textiles, all employed in producing exquisite traditional costumes. Shops on the market provide customers with a dizzying array of sarees, each of which may be customised in terms of colour and pattern.
6. Janpath Market
A shopping paradise for those on a budget, Janpath Market can be found close to Hazratganj. It provides a large selection of on-trend clothing, footwear, accessories, and goods for home decor at reasonable costs. College students and other young people concerned with maintaining their style without breaking the bank are the most likely to frequent the market. This is among the best markets in Lucknow.
7. Bhootnath Market
The sensation of shopping on the street makes Bhootnath Market in Indira Nagar one of the most popular attractions in the area. Everything you want can be found at Bhootnath Market, from contemporary clothing and accessories to home décor products and electrical devices. Chaat, a savoury appetiser, and kebabs are served at the market's many food vendors, another reason for the market's notoriety.
8. Alambagh Market
The Alambagh Market is among the best markets in Lucknow and is a bustling commercial district that can be found in the middle of the city. It is well-known for its lively shopping streets, which are lined with stores offering a variety of things, including apparel, footwear, technological devices, and home items. The market has a variety of branded retailers and local merchants, making it suitable for consumers of all income levels and tastes.
9. Sadar Bazaar
If you are seeking opportunities to purchase at wholesale prices, Sadar Bazaar is among the best markets in Lucknow you need to go to. It is now one of the leading wholesale marketplaces in Lucknow, offering various goods, including textiles, jewellery, handicrafts, and electrical goods. The Sadar Bazaar is the place to make bulk purchases or get the finest bargains available on wholesale goods, so head over there.
10. Kapoorthala Market
The Kapoorthala Market in Lucknow, India, is a vibrant and bustling shopping destination. It encompasses a vast region and offers a diverse variety of products and services to fulfil the needs of both locals and tourists. The market is well-known for its broad range of clothes shops, jewellery stores, footwear stores, and handicraft vendors, representing the region's rich cultural heritage. Visitors may also sample delicious street food and snacks from the market's food booths and cafés. Kapoorthala Market is a must-see for anybody searching for a fantastic shopping experience with a traditional twist.
Conclusion
To sum things up, Lucknow is a shopper's dream destination due to its many distinct and active marketplaces that provide a wide variety of possibilities for shopping. Whether you are interested in purchasing traditional handicrafts, magnificent jewellery, fashionable garments, or high-end brand names, these ten best markets in Lucknow should be on your shopping agenda. Get ready for a once-in-a-lifetime excursion into Lucknow's cultural and commercial attractions, as well as an unforgettable shopping adventure.