Introduction
Zepto is a quickly-growing grocery delivery platform in India. It promises to deliver groceries to your doorsteps within 10 minutes. Other companies offer delivery within 30 minutes. But Zepto delivers the daily essentials within 10 minutes. The business model of Zepto involves its business plan, revenue model, competitors, SWOT Analysis, and many more.
Zepto's business model was developed by a couple of successful instant grocery delivery startup founders. The company was founded by two teenagers Aadit Palecha and his childhood buddy Kaivalya Vohra. The Zepto business model works within the quick commerce segment in India.
The Zepto business model promises to deliver your grocery in 10 minutes. Zepto's network of "cloud shops" or "micro-warehouses" allows the company to fill orders quickly and efficiently. Zepto business model is based on the "dark store model." This involves setting up warehouse-style stores in residential areas that are only accessible to delivery drivers. The stores contain a range of products, and customers can only order via the Zepto India app or website. Zepto currently has over 86+ dark stores in various locations. While dark stores are designed for instant deliveries, they can't always handle high sales volume.
Zepto has places called dark stores or micro fulfillment centers that lie in higher-demand neighborhoods. These dark stores use technology for performing tasks such as the placement of products. Some other tasks they perform include deciding the store locations, and mapping delivery routes for avoiding heavy traffic congestions. The company is already delivering items that include cooking necessities, fresh produce, personal care items, snacks and beverages, and home cleaning items.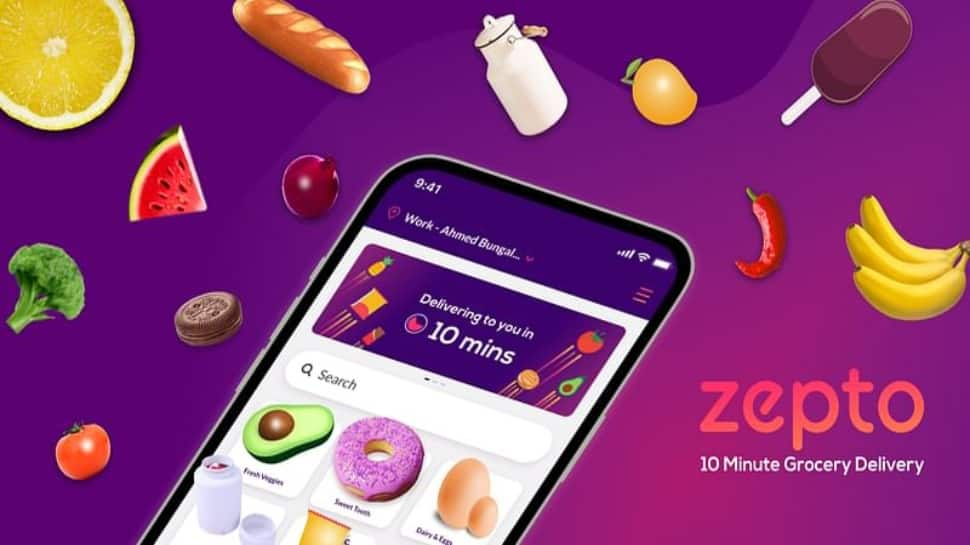 Faster delivery and enhanced distribution
Enhanced Product Assortment and Inventory
These facilities, which allow the company to fulfill its ten-minute promise on up to 90% of orders, possess the following characteristics:
They are not open to the public.
They are located in high-demand neighborhoods.
They stock only the most commonly ordered items.
They are ergonomically designed to ensure order packers can move as swiftly and efficiently as possible.
Revenue Model
Zepto makes money by charging a commission fee from the grocery stores for every order placed through the app. Additionally, Zepto may charge a delivery fee from the customers for the delivery service.
Margins on each individual product
The most common way grocery delivery startups earn money is on the margins of each individual product.
Handling Charges
Handling charge is the fee collected by Zepto to organise, pack and dispatch the items on your list.
Product Customizations
In Zepto's case, it's safe to say that they've identified their customers and their problems incredibly well. One good example is under their fruits and vegetables section.
Product Ads
Product Ads are a proven way to earn predictable revenue in most e-commerce and marketplace businesses. Zepto also pulls this off Product Ads in a flawless manner.
Membership
This is a model Zepto hasn't experimented yet, but proves to a very solid model for predictable revenue growth.
By subscribing to their membership, you can get
Free deliveries on all orders
Competitors
SWOT Analysis
Strengths
• Excellent usage of technology: With the assistance of www.locus.sh Zepto records its customers' geographical data, traffic dynamics, delivery time, and so on. They gather and evaluate this data to determine whether more dark establishments are needed in the region to meet the 10-minute objective.
• Competent Workforce: The effective management of Zepto is in the hands of highly skilled and experienced professionals. They are Zepto' s most valuable resource since they are well informed about the market. Palicha and Vohra, the co-founders, did a fantastic job in creating their team.
• Strong financial support: Zepto is well-funded, which allows it to expand and grow into a market leader. They currently have a total funding of $360 million.
• Being true to their objective: Zepto ensures that their customers' expectations are met by delivering goods in 10 minutes. Zepto achieves their aim 90% of the time, which contributes to brand loyalty.
Weakness
• Net Income: Zepto's operational costs are high. They need to grow their sales while decreasing some of their expenditures to make their business profitable.
• Reliance on retailers: Zepto's business strategy is primarily dependent on other businesses and their inventory. When a retailer's stock is unavailable, customers may be forced to select a higher-priced substitution or go without buying that item from them.
• Nothing Unique: Zepto's business strategy is not very unique, and any company may enter this market and replicate it.
• Fluctuating customer base: To keep their clientele, Zepto must find a balance between their discount strategy and keeping their delivery time under 10 minutes.
Opportunity
• Infiltrating further into existing locations and entering fresh cities: One way they can outperform their competitors is to grow their business as quickly as possible.
• Various Business Ventures: Zepto has developed a brand identity for itself, which they can now utilize to enter into other sectors and diversify their revenue stream.
Threats
Heavy competition: Zepto is in a league with big names. Customers swing from one app to the next like a pendulum. Because there is little consumer loyalty, Zepto must continually stay on top of their game.
Exploitation of delivery boys: There are several sceptics of the quick commerce industry. Delivery boys are exploited in the name of quick delivery and are subjected to extreme strain, increasing the likelihood of an accident.
Conclusion
Zepto is a detail-oriented and intense business with strong technical and operating discipline that allows them to pull off the 10-minute delivery. Zepto is looking to offer its service to more countries. This company is planning to cover about 100 pin codes. The fastest delivery is a fresh idea. The delivery platform brings fast delivery to customers through the dark store concept.