Introduction
Amul and Britannia are the only two Indian companies to feature among the top 100 most valuable food brands in the world. India is, after all the largest producer of dairy products in the world – and Amul is the largest producer of milk in India.
Dairy activities form an essential part of the rural Indian economy, serving as an important source of employment and income. India also has the largest bovine population in the world. However, the milk production per animal is significantly low as compared to the other major dairy producers. Moreover, nearly all the dairy produce in India is consumed domestically, with most of it being sold as fluid milk. On account of this, the Indian dairy industry holds tremendous potential for value-addition and overall development. The dairy market in India reached a value of INR 9,168 Billion in 2018.
Britannia
Industries is one of India's leading food companies with a
100-year legacy and annual
revenues in excess of Rs. 9000 Cr. Britannia is among the most trusted food brands, and
manufactures India's
favorite brands like Good Day, Tiger, NutriChoice, Milk Bikis and Marie
Gold which are household names in India. Britannia's product portf
olio includes Biscuits, Bread,
Cakes, Rusk, and Dairy products including Cheese, Beverages, Milk and Yoghurt. Britannia is a
brand which many generations of Indians have grown up with and our brands are cherished and
loved in India and the world over. Britannia products are available across the country in close to
5 million retail outlets and reach over 50% of Indian homes.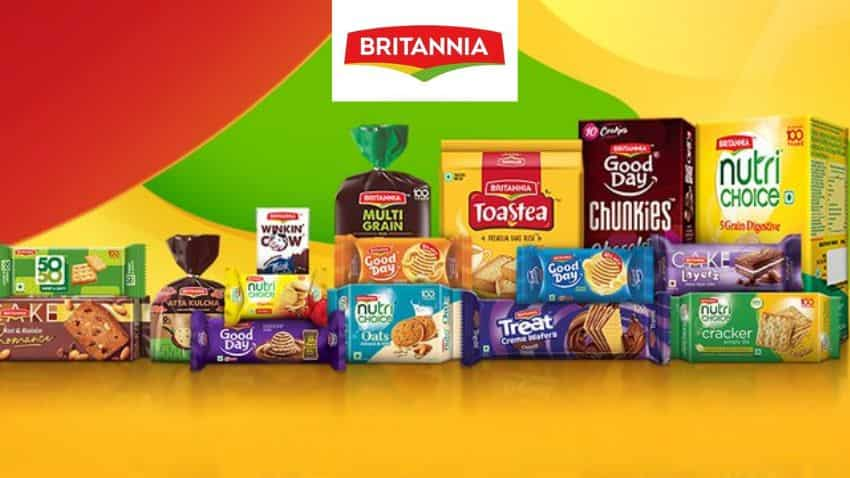 Amul is the largest food brand in India and world's Largest Pouched Milk Brand with an annual turnover of US $1050 million (2006-07). Currently Amul has 2.6 million producer members with milk collection average of 10.16 million litres per day. Besides India, Amul has entered overseas markets such as Mauritius, UAE, USA, Bangladesh, Australia, China, Singapore, Hong Kong and a few South African countries.
Mainly because of marketing and the trust it was able to develop right from 90's. This is the most important thing that's working in favor of Amul. Another thing is Amul has a variety of products, milk, yogurt, ice-cream, biscuits etc. People see more of Amul, it stays in their mind and they are tempted to buy the product. Now, coming to the taste, it tastes better than several other brands in the market and no one wants to try a new product when they have Amul as an alternative.
Product Portfolio
In cubes and slices, Amul is recommended as the best buy, and in blocks, Verka. For cheese spreads too, Amul is the best buy. Though it scored two points less than Britannia, in the overall score, Amul's price is much lower. Britannia is the best buy among the three brands of pizza-cheese.
In the sensory analysis of the cubes, Britannia scored the highest. But, among the slices, Amul topped the list. Britannia cheese-spread was preferred to Amul.
Among the brands of pizza cheese, Amul was rated the best with a score of 92 while Britannia obtained a score of 36.
Product Range
A vast varieties of products are offered by AMUL which are as follows:
BREADSPREADS
Amul Butter
Amul Lite Low Fat Breadspread
Amul Cooking Butter
CHEESE RANGE
Amul Pasteurized Processed Cheddar Cheese
Amul Processed Cheese Spread
Amul Pizza (Mozarella) Cheese
Amul Shredded Pizza Cheese
Amul Emmental Cheese
Amul Gouda Cheese
Amul Malai Paneer (cottage cheese) Frozen and Tinned
Utterly Delicious Pizza
MITHAEE RANGE (ETHNIC SWEETS)
Amul Shrikhand (Mango, Saffron, Almond Pistachio, Cardamom)
Amul Amrakhand
Amul Mithaee Gulabjamuns
Amul Mithaee Gulabjamun Mix
Amul Mithaee Kulfi Mix
MILK RANGE
Amul Taaza 3% fat Milk
Amul Gold 4.5% fat Milk
Amul Slim-n-Trim 0% fat milk
Amul Chocolate Milk
Amul Fresh Cream
Amul Snowcap Softy Mix
Amul Taaza Double Toned Milk
PURE GHEE
Amul Pure Ghee
Sagar Pure Ghee
Amul Cow Ghee
INFANT MILK RANGE
Amul Infant Milk Formula 1 (0-6 months)
Amul Infant Milk Formula 2 ( 6 months above)
Amulspray Infant Milk Food
MILK POWDERS
Amul Full Cream Milk Powder
Amulya Dairy Whitener
Sagar Skimmed Milk Powder
Sagar Tea and Coffee Whitener
SWEETENED CONDENSED MILK
Amul Mithaimate Sweetened Condensed Milk
FRESH MILK
Amul Taaza Toned Milk 3% fat
Amul Gold Full Cream Milk 6% fat
Amul Shakti Standardised Milk 3% fat
Amul Smart Double Toned Milk 1.5% fat
CURD PRODUCTS
Amul Masti Dahi (fresh curd)
Amul Butter Milk
Amul Lassi
AMUL ICECREAMS
• Royal Treat Range (Rajbhog, Cappuchino, Chocochips, Butterscotch, Tutti Frutti)
• Nut-o-Mania Range (Kaju Drakshi, Kesar Pista, Roasted Almond, Kesar Carnival, Badshahi Badam kulfi, Shista Pista Kulfi)
• Utsav Range (Anjir, Roasted Almond)
• Simply Delicious Range (Vanilla, Strawberry, Pineapple, Rose, Chocolate)
• Nature's Treat (Alphanso Mango, Fresh Litchi, Anjir, Fresh Strawberry, Black Currant)
• Sundae Range (Mango, Black Currant, Chocolate, Strawberry)
• Millennium Icecream (Cheese with Almonds, Dates with Honey)
• Milk Bars (Chocobar, Mango Dolly, Raspberry Dolly, Shahi Badam Kulfi, Shahi Pista Kulfi, Mawa Malai Kulfi, Green Pista Kulfi)
• Cool Candies (Orange, Mango)
• Cassatta
• Tricone Cones (Butterscotch, Chocolate)
• Megabite Almond Cone
• Frostik – 3 layer chocolate Bar
• Fundoo Range – exclusively for kids
• SlimScoop Fat Free Frozen Dessert (Vanilla, Banana, Mango, Pineapple)
CHOCOLATE & CONFECTIONERY
• Amul Milk Chocolate
• Amul Fruit & Nut Chocolate
• Amul Eclairs
BROWN BEVERAGE
• Nutramul Malted Milk Food
MILK DRINK
• Amul Shakti Flavoured Milk
Consumer Preference
It looks like the audience demographic for both brands are mirror images of one another. A look at the figures below show that 74% of Amul's demographic and 73.4% of Britannia's demographic are male and the remaining are female. Millennials form the largest age group for both brands at 50.9% (Amul) and 49.5% (Britannia) respectively.
Conclusion
Britannia ranked third and Amul fourth among the top five strongest food brands in the world. The strength of brands is evaluated based on metrics such as marketing investment, stakeholder equity, and business performance.