Introduction
Flipkart was the first eCommerce brand in India that started offering cash-on-delivery services. The marketing strategy of Flipkart includes its business model, general information, marketing model, and many more.
Flipkart has expanded its product line and distribution capabilities to strengthen its position in the Indian market enormously. The growth of the Indian economy and growing use of the internet and e-commerce in India have also helped Flipkart find faster growth in the local market. It started selling a wide range of products like lifestyle, Fitness, home décor, appliances, clothing and so many more.
Flipkart is the most well-known eCommerce platform in India. It started with books, a product category with large margins, little upkeep, and readily transportable goods. Books are non-perishable items that retain their value throughout time. Early on, when shipments were few, the business did not need to maintain inventory because books could be acquired directly from wholesalers based on the number of customer requests.
The e-commerce brand has enjoyed strong growth in popularity driven by its excellent marketing strategy and its use of seasonal sales.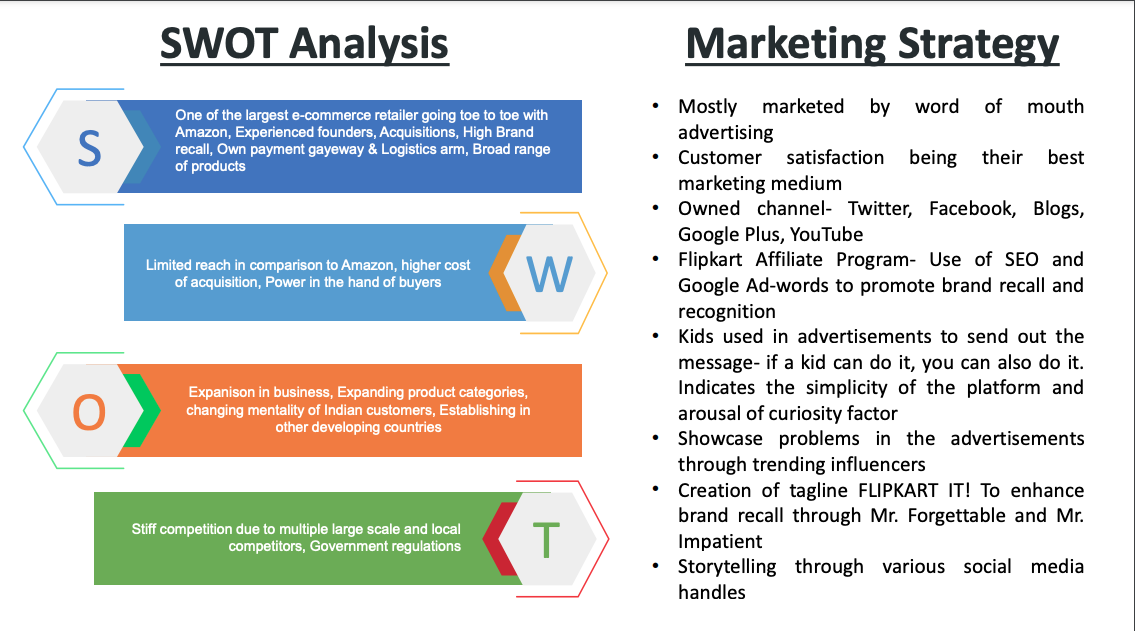 Product Strategy
Flipkart sells more than 80 million products on its digital marketplace in more than 80 categories. The main product categories include electronics, televisions and home appliances, men's products (including fashion products, footwear, and accessories), products for women, babies and kids, as well as home furnishing products and grocery apart from other product categories like sports-related products, books, auto accessories, and fitness products.
Apart from selling products on its e-commerce sites including Flipkart, Myntra, and Jabong, the brand also offers services like flight bookings as well as online payments. Phonepe is a payment app used widely across India and is among the top ten trusted payment solutions. Its main rivals include Google Pay and Paytm. However, Google Pay and PhonePe are among the most used digital payment solutions in India whose popularity grew faster following the demonetization.
It introduced a nice range of insurance products also to grow its user base which is already above 230 million. Flipkart's range of financial services has grown larger by the addition of these services to PhonePe's services mix.
Place Strategy
Flipkart's business spans entire India and the company has established an efficient distribution channel that apart from tier 1, 2, and 3 cities in India also delivers to smaller towns as well as rural areas. The company has its headquarters in Bangalore (one of four metropolitan cities in India), in the South Indian state of Karnataka.
The growth of e-commerce in India depends, to a large extent, on how leading players manage their distribution system.  Making deliveries possible to remote areas in various Indian states requires that the company establishes modern and hi-tech warehouses in different corners of the nation. The Hyderabad warehouse of Flipkart is a hi-tech warehouse. It relies on advanced technologies like IoT equipped automated conveyor belts, IT-based packaging, and tracking solutions, digital inventory management systems as well as other forms of digital solutions. These technologies enable the swift movement of goods and services from one part of India to another.
While the e-commerce website Flipkart conducts its business online mainly, its distribution system supports its business operations across entire India like a backbone. The company has established a network of fulfillment centers in states including Haryana, Telangana, Maharashtra, Karnataka, and West Bengal.
Price Strategy
While product quality and speed of delivery are also important factors affecting the market share of e-commerce players in India, pricing is central to popularity. The Indian consumers are highly price-conscious and compare prices before going for a purchase. Flipkart, Amazon India, Snapdeal, and other major e-commerce players in India are engaged in a bitter price war. Walmart is already well known for its EDLP pricing strategy. Just as in its domestic market, it uses a competitive pricing structure to gain sales.
The main reason that Flipkart and Amazon India are leading in the Indian e-commerce market is that the two offer products at more competitive prices than the others. Flipkart offers massive discounts on an extensive range of electronics and other products during the Diwali sale. Indian consumers shop heavily on the eve of Diwali. Flipkart also runs sales and discount programs on different occasions like Holi, Durga Puja, and other festivals when Indian consumers are more likely to shop.
Promotion Strategy
A remarkable level of competition marks the e-commerce industry in India. The e-commerce brands in India, apart from competing based on price, run regular marketing campaigns to drive sales and grow their customer base. Marketing and promotions are critical drivers of sales and revenue growth for Flipkart. Digital marketing is the primary channel used by Flipkart to grow its customer base. Apart from its websites and apps, the company uses digital promotions as well as other traditional channels like print media and outdoor advertisements to grow sales.
Flipkart Plus is a membership program that offers access to special privileges like more points when you shop on Flipkart as well as faster delivery, extra discounts, early access to sales, superior customer support, among others. The company has launched Flipkart Lite combining the rich features of a web app with the browser experience so that customers can have a seamless shopping experience, even with low network connectivity.
The popularity of e-commerce websites like Flipkart depends on the type of shopping experience they provide. Secure payments, hassle-free checkouts as well as improved suggestions and other features like product comparisons are all essential to keep customers engaged.
Brand image has become very important for retaining customers and sustaining growth momentum in the e-commerce industry. Flipkart invests in CSR and sustainability to create a strong social image. Apart from that, the company is also helping several small and medium sized businesses thrive during the times of Covid-19.
STP Analysis
A balanced approach is selected for the STP (Segmentation, Targeting, and Positioning) examination of Flipkart segmentation, pricing, and targeting. Similar to how the pricing varies by brand and product quality. However, it asserts that many items are priced below MSRP and at discounts.
Flipkart uses behavioural and psychographic segmentation strategies to divide the market and adjust to changing customer needs and preferences.
Conclusion
Flipkart is what it is now because of the aforementioned marketing techniques, including social media marketing, catchy campaigns, commercials and bonus redemption. This firm, which just started as a platform for selling books, is now dominating the Indian eCommerce sector because of its clever marketing tactics. As a result, the platform has come a long way since its start and works hard to continue competing at the top of its game.