Introduction
Dabur is one of the biggest Indian suppliers of FMCG and ayurvedic/health products. It has a global presence on almost all of the world's continents. Dabur is focusing on increasing product lines, range selling and penetration of its brands.
Dabur is the world's largest Ayurvedic and Natural Health Care Company with a portfolio of over 250 Herbal and Ayurvedic products. Dabur also recommends various Ayurvedic Home Remedies formulated using Ayurvedic plants and herbs which are natural and chemical-free.
Dabur has two divisions in India: consumer care division and foods division apart from its international operations.
Dabur's broad product portfolio provides a good play on Indian Consumer Goods spend by its strong presence in less penetrated and high growth categories. The company is set to benefit from recovery in rural growth aided by rural‐centric initiatives announced in the Budget, which contributes 45 per cent to total sales and a good monsoon.
Dabur's positioning on the 'health and wellness' platform, backed by its ayurvedic, natural and herbal (ANH) image is very progressive. This, combined with its demonstrated ability to create new categories and sub‐categories, makes it well‐placed to capture lifestyle changes‐led growth in the consumer goods space.
The company has a wide product basket, along with a balanced mix of both urban and rural markets. A meaningful improvement in consumer off take is a positive, and could reflect in Dabur's performance in the coming quarters.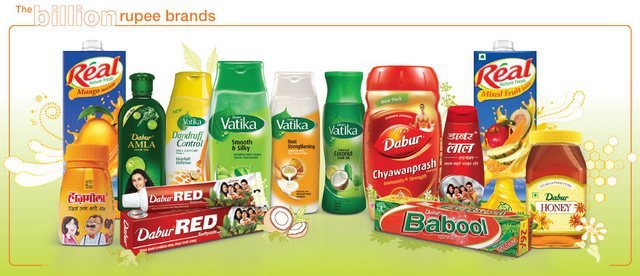 Product Mix
Dabur is committed in offering its customers products that are of excellent quality and are herbal. Their mission is in providing goods that prove healthy for its customers, as health is wealth. Nature provides inspiration to all its products.
The FMCG division of Dabur has five major brands, each with its own identity.
Dabur – the industry's leader in natural healthcare goods
Vatika – a luxury personal care line
Hajmola – the greatest digestive aid
Real – a line of fruit juices and beverages)
Fem – a line of skincare products.
Dabur deals in many categories of merchandises like
oral care
hair care
skin care
food products
health-care
home-care products.
Dabur has a wide range of product portfolio. The following are the products in the marketing mix strategy offered by Dabur globally:
• Hair Care: Dabur Amla and Vatika Naturals are the brands in this category
This category includes products such as Hair oils, Shampoos, Conditioners, Hair Cream, Hair oil treatment, Shampoo replacement, Men's hair tonic, Men's hair cream and kids oil.
• Oral Care: Dabur Herbal and Dabur Miswak are the two brands offered in this category
The products include a range of natural toothpastes from the house of Dabur (Classic range, Gel range, Premium range, New ingredient range)
• Skin Care: DermoViva USA, Fem and Jaquline are the brands offered in this category.
The prodcuts include face wash, face scrub, face mask, body creams, body lotions, sun care, soap, body wash and hand wash.
• Baby Care: DermoViva Baby is the brand offered in this category.
The product list includes Hair Oils, Massage Oils, Soaps, Shampoos, Body lotions, Creams, Enriched powder and baby wipes.
The ayurvedic and herbal business areas, offering innovative and value-for-money products have been Dabur's unique selling propositions. The company has grown through a mix of organic and inorganic expansion.
Conclusion
Dabur is the fourth largest Fast Moving Consumer Goods company in India. Dabur India Limited is a leading Indian consumer goods company with interests in Hair Care, Oral Care, Health Care, Skin Care, Home Care and Foods.