Introduction
For all the foodies, what more could you ask for than having your favorite food from your favorite restaurant, delivered within 30 minutes, anywhere you are! And in this fast-paced world, who would even prefer to go out to a restaurant, wait in the traffic, and then wait some more at the restaurant before the food is served?
Swiggy not only wants to surprise taste buds, but it also aims to deliver happiness.
Background
Swiggy was founded by BITS Pilani alumni Nandan Reddy, Rahul Jamini and Sriharsha Majety in 2014. Swiggy is the paragon that emerged from Bundl Technologies, the earlier venture of these two masterminds.
Business Model
Swiggy is an on-demand local food delivery app. It not only lists restaurants, but it also maintains a huge fleet of delivery partners that ensures the delivery of your delicious meals within 30 minutes. This unicorn start-up mapped the steps of some big names and finally crafted a dual partnership business model. With the advent of recent business expansion, people vying for deliveries from the nearest electronics shops, florists, grocery stores, or even pharmacies; have also come under the umbrella of potential Swiggy customers.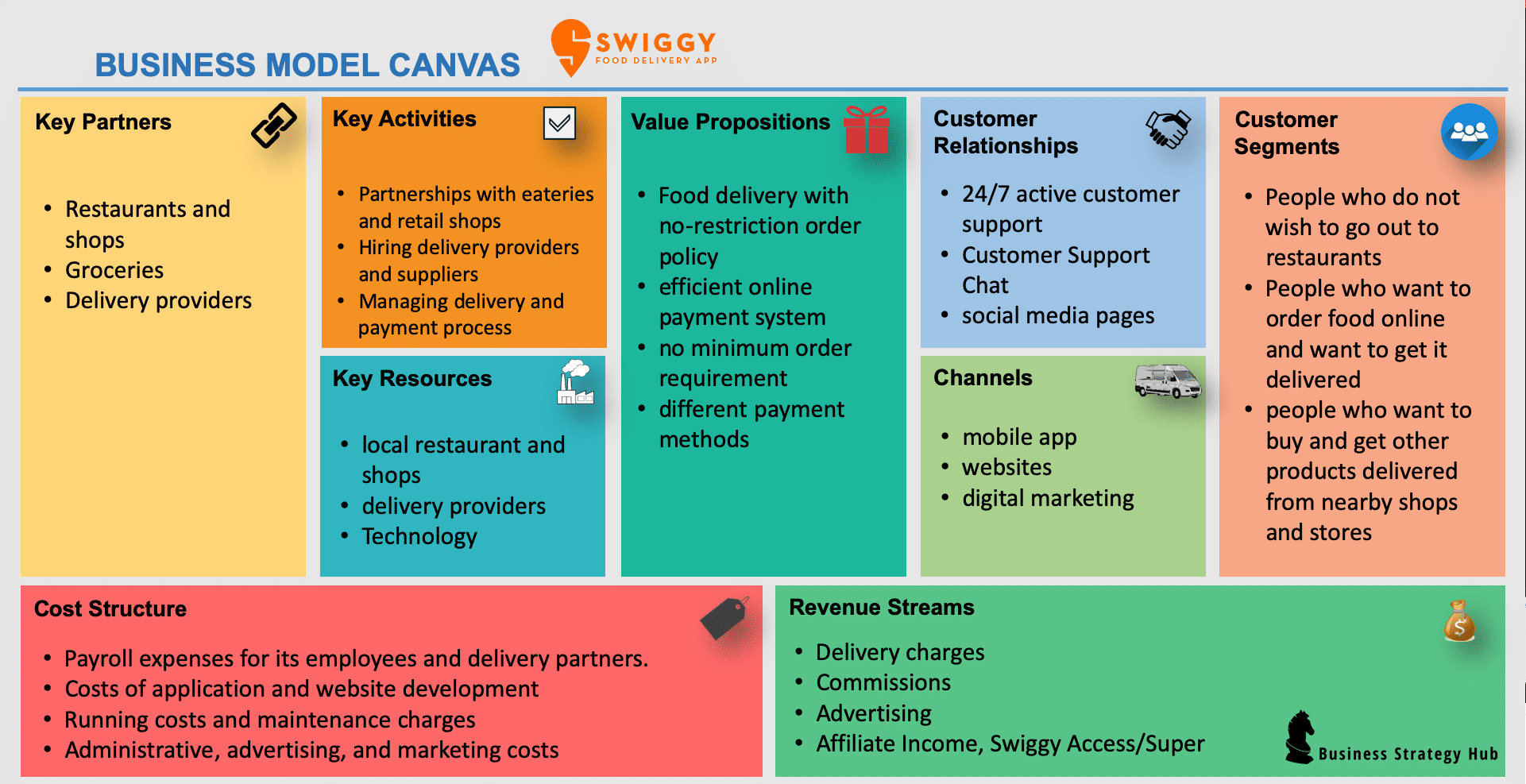 Swiggy gets to witness the number of orders per month as high as 14 million is its no minimum order restriction. Swiggy receives myriads of orders worth less than Rs 100, which tells a lot about why Swiggy is the go-to app for ordering food. Swiggy obsesses about customers and believes that everything else is just the by-product of doing business right.
Activities under Swiggy
Building partnerships with restaurants, eateries, and retailers
Hiring and managing delivery feet
Acquiring and retaining customers
Supervising the technical operations behind the delivery and payment process
Instant redressal of grievances of customers and partners as well
Process
Once customers click on the app, they are presented with a bouquet of nearby restaurants with clear delivery times. Once an order is placed, the order is broadcasted to their fleet of delivery partners saving effort & costs of the restaurants.
Revenue Model
1. Advertising: Swiggy earns advertising revenue from the restaurants featured on their app Banner promotions & Priority listing. They allow restaurants to place banner ads for a cost & also allow them to pay for a higher listing on the app.
2. Delivery Charges: The company charges a nominal charge of Rs 20 to Rs 40 for orders below Rs 250 and raises the same during unusual weather conditions or periods of high order demand.
3. Commissions: Swiggy charges between 15-25% commissions from the restaurants for using their delivery fleet for every order placed on their app.
4.  Swiggy Go: This is another new service that Swiggy launched in 2019 to offer instant pick up & drop service for parcels from different locations across the city. This service has now morphed into Swiggy Genie.
5. Swiggy Access: This is an entirely new concept that Swiggy has pioneered. They offer cloud kitchens on rent to restaurants so that they can offer their menus to consumers in locations where they may not have a physical restaurant. This service alone could account for 25% of Swiggys revenues in the future.
6.  Swiggy Super: The program offers unlimited free delivery for all orders above Rs 99 and can help members avoid surge pricing during periods of excessive demand.
Marketing Model
The uniqueness of the Swiggy marketing and communication strategy has been tight 20-second edits with simple characters and a cricket commentary voice-over. Overall the media strategy has deliver great results for the Brand with a clear link to driving category growth with sharp & efficient media assets driving spectacular growth year after another.
Their latest Campaign, "Swiggy Karo, Fir Jo Chahe Karo," which talks about the importance of family time that you will gain if you Swiggy. Again delivered with a series of sharp 20 sec with simple characters and a well-delivered message.
Its marketing strategy is one of its highlights.
Valuation: $5 Billion
Conclusion
Swiggy has indeed become an integral part of our lives and something that we look forward to. Swiggy is barely on its first chapter. There are many new delights that the brand will share with its users in the times to come.