Introduction
The Patanjali Ayurveda Company (often called Patanjali) manufactures cosmetics, ayurvedic medicines, and personal care products. The marketing strategy of Patanjali includes its business model, general information, marketing model, and many more.
Patanjali Ayurveda (often referred to as Patanjali) is an Indian multinational conglomerate holding company headquartered in Haridwar, India. The company makes cosmetics, ayurvedic medicine, personal care goods, and food.
Patanjali was one of India's fastest-growing FMCG companies in 2016, according to CLSA and HSBC. It was valued at 3,000 crores (about US$480 million in 2020). Patanjali estimates its yearly revenue for the fiscal year 2016-17 at 10,216 crores (US$1.3 billion). According to a report by India Infoline (IIFL), Patanjali's success would impact at least 13 publicly traded companies, including Hindustan Unilever, Colgate, Dabur, ITC and Godrej Consumer Products.
The Patanjali Ayurveda basically produces the product in the personal care and food in which the company produces more than 2,500 product including 30 types of food products and 45 types of cosmetic products and all those products manufactured by Patanjali being made from natural and Ayurvedic components. The Manufacturing unit of Patanjali Ayurveda has over 300 medicines for treating people's cold with a motive of providing pure and better-quality products to the consumers.
Patanjali relies not just on the veracity of products but also on Baba Ramdev's claims of technological imports to get the most from Ayurvedic aid and literature. The brand and its founders use various forms of marketing to promote its products. Many of which have ensured that the company continues to flourish almost 16 years after its conception. Through meticulous brand promotion and successful trade systems, Patanjali seems to be on track to becoming a face brand of India itself.
Product Strategy
Patanjali Ayurveda is an Indian FMCG company which started in 2006. Patanjali has a diverse product offering in its marketing mix. The product range of Patanjali had more than 400 types of FMCG goods like cosmetic products, food items, haircare, skincare, toothcare etc. The company also has products which focus on baby segment, healthcare and beauty products for men and women. Patanjali also produces medicines and as per its sources, all its products are ayurvedic and free of harmful chemicals.
Patanjali food product range includes biscuits, noodles, cornflakes etc. Patanjali has 300+ medicines for treating many ailments and body conditions, from common cold to paralysis. Textile, jeans, kurta, pyjama etc is also something which the company is focused on. Hence, this gives an insight in the product mix of Patanjali. The company has been constantly innovating its product line in the FMCG industry.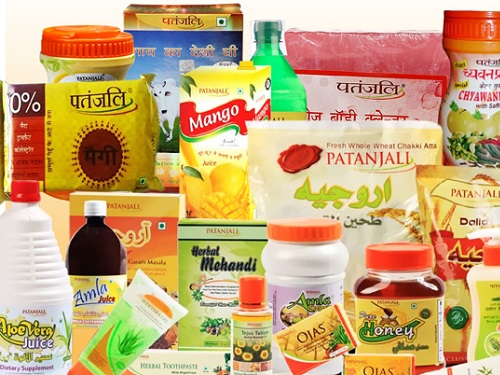 The varied products make up for than 900 items and the organization sells them grouped under the following goods brackets:
Ayurvedic medicine
Consumer goods
Healthcare
Personal care
Cosmetics
Cleaning agents
Beverages
Fashion
Foods items
Price Strategy
Patanjali Ayurveda has entered in an extremely competitive segment in the Indian FMCG industry.
The main players in India in this category are the likes of HUL, P&G, Marico, ITC etc. Patanjali has ventured into various segments and hence the pricing strategy in its marketing mix is defined by the competition in that segment.
Patanjali products are priced as per competition so that it becomes easier for the customers to switch from their existing brand and adopt their products. Patanjali noodles competes with Maggi, toothpaste competes with Colgate, chywanprash competes with Dabur, cornflakes compete with Kelloggs and hence forth. This clearly shows that Patanjali has replicated the already successful existing FMCG model and is focused on giving a healthier and natural variant to its target audience. Thus the prices of Patanjali products are driven by segment, geography and most importantly competition pricing.
Place & Distribution Strategy
Patanjali has managed to reach a wide population in a short span of time. Patanjali has an excellent distribution network as it has tied up with the likes of Future group, Reliance retail, Hypercity etc. This has enabled the Patanjali brand to ensure that its products are widely available across various cities and towns in India. Close to 5000 retailers are actively promoting Patanjali products along with smaller grocery stores.
With the increase in ecommerce in the Indian segment, Patanjali is also effectively increasing its presence online. This would enable customers to simply add the products to their carts and they can buy Patanjali products via COD, online payment etc which would be delivered to their doorstep. The brand has also been able to expand geographically outside India.
Patanjali products are widely available in countries like Nepal, Saudi Arabia, UAE, Middle East, Bangladesh, SriLanka etc.
With headquarters situated in Haridwar, Uttarakhand, India, Patanjali serves customers mainly in the Indian subcontinent and the Middle East. The brand has over 2,00,000 employees and controls the following subsidiaries:
Paridhan
Ruchi Soya
Herboved
Patanjali Renewable Energy Pvt Ltd
Advance Navigation and Solar Technologies
Promotion & Advertising Strategy
Patanjali has considered advertising for its products as a high priority for driving sales. The promotion and branding in Patanjali marketing mix utilizes all media channels like print, TV, online ads, billboards etc. Patanjali's brand ambassador is yoga guru Ramdev Baba, who has a staggering fan following, which enabled the brand to catapult in the big league within a short span.
The advertisements of Patanjali has been aggressive where they have showcased the importance of using natural and ayurvedic ways of making products. Their advertisements have also been under scrutiny as they have alleged that its competitors have been using harmful products. Patanjali advertisements showcase their entire product range targeting the audience who want a healthy lifestyle by using naturally curated products.
The massive advertising exercise by Patanjali has made it one of the fastest growing FMCG companies in India, with annual revenues in excess of INR 10,000 crores. The brand has good media coverage via news channels as well, which boosts the reputation & image of the company. Hence this gives an overview on the marketing mix of Patanjali Ayurved FMCG company.
Conclusion
Patanjali employed these techniques to safeguard and grow the company's reputation in the digital economy. Because of the excellent marketing strategy of Patanjali and brand positioning, it is one of the top-ranked companies by CLSA & HSBC.