Introduction
ITC and Marico are two of the most common FMCG (Fast Moving Consumer Goods) products in the country and have certain similarities and differences with strong financials and values.
ITC Limited is a diversified conglomerate with (ITC Products) businesses spanning Fast Moving Consumer Goods comprising Foods, Personal Care, Cigarettes and Cigars, Branded Apparel, Education & Stationery Products, Incense Sticks and Safety Matches; Hotels, Paperboards, and Packaging, Agri-Business and Information Technology.
ITC Limited has sustained its position as one of the fastest-growing FMCG businesses in the country, leveraging a robust portfolio of brands, a slew of first-to-market offers, a range of distinctive, customized products, innovation, premiumization, along with an efficient supply chain and expanding the distribution network.
Marico Limited is one of India's leading consumer products companies operating in the beauty and wellness space. Empowered with freedom and opportunity, we work to make a difference to the lives of all our stakeholders – members, associates, consumers, investors and the society at large. Currently present in 25 countries across emerging markets of Asia and Africa, Marico has nurtured multiple brands in the categories of hair care, skin care, edible oils, health foods, male grooming, and fabric care. Marico's India business markets household brands such as Parachute, Parachute Advansed, Saffola, Hair & Care, Nihar, Nihar Naturals, Livon, Set Wet, Mediker and Revive among others that add value to the life of 1 in every 3 Indians.
Marico is a well-managed company that has created a stimulating work environment that empowers employees, facilitates teamwork, and encourages innovative ideas. Marico has risen to become one of the few profitable Indian FMCG companies over the years as a result of this.
Product Profile
ITC
BUSINESSES
Hotels
Paperboards &
Specialty Papers
Packaging
Agri-Business
Information Technology
Group Companies
So here is the ITC products list. ITC Limited launched over 50 new FMCG products, across categories such as

Foods,
Personal Care,
Education, and
Stationery products,
Agarbatti and Matches,
Strengthening its diverse and differentiated portfolio of FMCG offerings.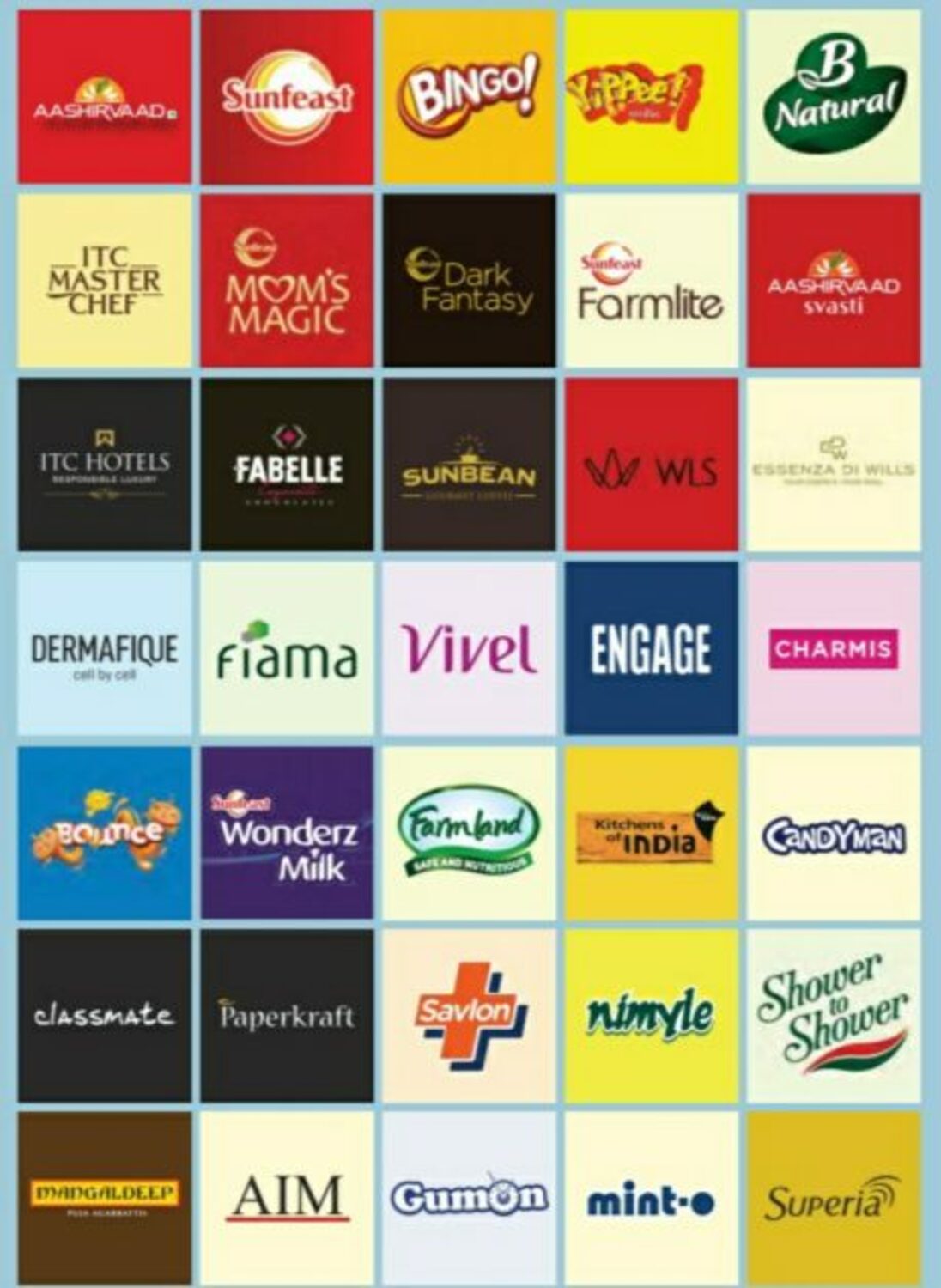 Marico
Marico – Products
Hair Oil
Nihar Naturals Sarson Kesh Tel
Nihar Naturals Shanti Amla Badam Hair Oil
Parachute Advansed Deep Conditioning Hot Oil
Parachute Advansed Aloe Vera Enriched Coconut Hair Oil
Parachute Advansed Coconut Hair Oil
Parachute Advansed Jasmine Hair Oil
Hair & Care Fruit Oils
Nihar Naturals Coconut Hair Oil
Coconut Oil
Parachute Coconut Oil
Nihar Naturals Coconut Oil
Nihar Naturals Uttam Coconut Oil
Hair Serum
Livon Silky Potion Hair Serum
Hair & Care Silk n Shine Hair Serum
Anti-Hairfall
Livon Hair Gain Tonic
Parachute Advansed Ayurvedic Hair Oil
Parachute Advansed Ayurvedic Gold Hair Oil
Parachute Advansed Scalp Therapie Hair Oil
Male Grooming and Styling
Parachute Advansed Men's Hair Cream Range
Set Wet Beard Styling Gel
Set Wet Deodorants
Set Wet Styling Gel
Wellness
Saffola Oils
Saffola Aura – Olive & Flaxseed Oil
Saffola Masala Oats
Saffola Multigrain Flakes
Skincare
Parachute Advansed Body Lotion
Financials
In terms of fundamentals, ITC is superior over Marico and more over price wise also ITC is attractive than Marico . And more over in stocks like Marico , due to its high price, the liquidity will be a major problem unless and otherwise the stock reaches its rock bottom price with a valid reason.
While there is no debt in the books of ITC and it's able to fund all it's FMCG adventures and mistakes from the profit of tobacco and still over and able is able to give a dividend to the shareholders. At the current valuations sure there is a huge margin of safety for the investors.
Any future challenges Marico faces will be a very good opportunity to enter at corrected valuations and there are high chances that the valuations will remain high for a longer period of time. Right now investing in Marico will leave you with very little room for margin of safety and challenges the company faces in the future or near future and that will hit the stock price very badly.
Work Profile
The overall rating of ITC is 3.9, whereas Marico is rated 4.1 out of 5.0. ITC is rated higher than Marico for job security, whereas Marico is rated higher for skill development, company culture, work satisfaction, salary & benefits, work-life balance and career growth. Marico is rated 3.7/5.0 for work-life balance, while ITC is rated 3.5/5.0. At Marico, 70% of employees reported working from Monday to Friday, and 70% mentioned having flexible timings. For ITC, 70% of employees reported working from Monday to Friday, and 60% mentioned having flexible timings.
The overall rating of Marico is 4.1, with Skill development being rated at the top and given a rating of 4.0. However, Career growth is rated the lowest at 3.4.