Introduction
Nestlé is the largest food company in the world, marketing over 8,500 brands and 30,000 products. It operates nearly 500 factories across 5 continents and employs over 200,000 employees worldwide. As the World Food Company, Nestlé is the provider of the best food for whatever time of day and for whatever time of your life.
Product mix
Nestlé's marketing strategy aids the brand's/competitive company's position in the marketplace as well as the achievement of its business objectives.
Baby foods, cereals, chocolate & confectionery, bottled water, coffee, cuisine, chilled & frozen food, beverages, dairy, food service, healthcare nutrition, ice cream, and pet care are just a few of Nestle's product categories. Its portfolio includes around 2000 brands.
It also has a large number of recipes on its website. This demonstrates Nestle's extensive product portfolio, which is beyond the reach of many of its competitors.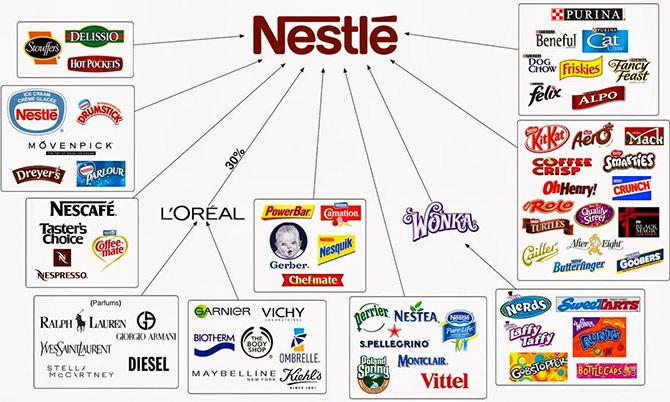 Nestle's products are of very good quality. Its products are controlled on a local level to meet the needs of clients. It invests enormous money in research and development to identify what customers may desire and need in the short and long term. However, they primarily focus on the following items:
Powdered and liquid beverages:- This is Nestle's most profitable and largest product division. Nestle's coffee, chocolate, and malt beverages, as well as tea items, fall into this category. Nestle deals in the beverage category with help of the most popular and biggest coffee brand Nescafe. Nestle tea, chocolate and malt beverages are equally popular amongst the masses. It also offers nutritional drinks through brands like Boost that have the right amount of minerals, vitamins and protein to keep individuals healthy, fit and fine.

NESCAFE GOLD BLEND
BOOST MALT BEVERAGE
NESTEA ICED TEA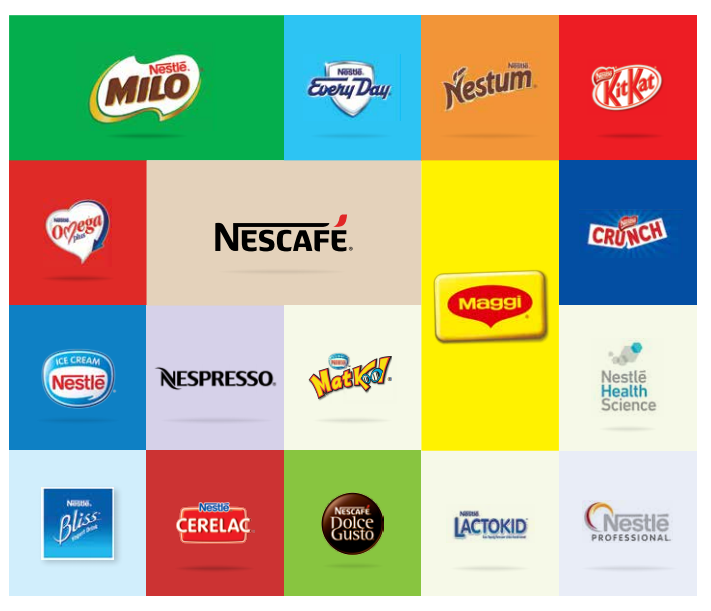 Dairy Products:- Nestle dairy products boast very good quality milk products that are popular all over the world. The Health & Wellness segment relies on milk and dairy products especially the brand Nido. Nestle ice creams made from milk in different flavours are also highly popular all over the world.
Nutrition and Health Science:- Nestle's infant formula and baby meals are included in this category.
Waters:- Nestle's Pure Life is the world's most popular bottled water brand, with distribution in more than 100 countries. Nestle bottled water has spread its product presence to more than 100 countries. Nestle Waters bottles natural mineral waters through several brands like Perrier, Acqua Panna, Vittel, Buxton, Erikli and S. Pellegrino to provide high-quality and sustainable hydration.

NESTLE'S PURE LIFE
PERRIER
ACQUA PANNA NATURAL MINERAL WATER
BUXTON MINERAL WATER

Confectionary:- Apart from Nestle's popular global brand KitKat, the corporation has introduced several additional local brands in this area. Nestle is active in the chocolates segment through KitKat, Aero, Milky Bar and Eclairs. The brand has introduced Alpino chocolate as part of its gifting segment marketing strategy to target rival brands, especially Cadbury's products.

AERO CHOCOLATE BAR
CAILLER CHOCOLATE
KITKAT PEANUT BUTTER

Baby Foods:- The Nestle marketing strategy includes supplying baby food through popular brands like Gerber, Nestle Cerelac and Nestle NaturNes for babies of all ages. These brands offer a wide range of easily-digested nutritious instant cereals that are not a substitute for breast milk but can sufficiently meet the nutritional requirements of a growing baby.
NESTLE CERELAC
GERBER APPLE STRAWBERRY BANANA
Chilled and Frozen Food:- Nestle serves chilled and frozen foods with help of brands like Thomy, Garden Gourmet and Digiorno.
GARDEN GOURMET MINI FILLETS
THOMY SALAD DRESSINGS
Ready-to-Cook Foods:- There are several Nestle products in the ready-to-cook category like instant noodles from Maggi.
MAGGI SOUPS
MAGGI SEASONINGS
Breakfast Cereal:- Nestle offers breakfast cereals with help of several brands like Cheerios and Fitness as a balanced diet for every age and healthy lifestyle.
MULTIGRAIN CHEERIOS FIBRE 5 WHOLE GRAINS
FITNESS TOASTIES
NESQUIK BREAKFAST CEREAL
Prepared Dishes and Cooking Aids:- The company has also introduced the concept of prepared dishes in local flavours for the benefit of consumers who are too busy to prepare food from the scratch. Popular Nestle brands like Buitoni, Stouffer's and Maggi cater to regional tastes with help of its renowned products.
DIGIORNO CRISPY PAN PIZZA
MAGGI 2-MINUTE NOODLES
Pet Care:- Nestle's products in the pet category include wholesome kibbles and dry dog food from brands like Bakers Complete and Beneful. Each box includes a wide range of varieties and flavours to satisfy your pet's cravings. Nestle offers cat food in multiple formulas with help of its brand Cat Chow, Friskies and Felix.
BAKERS COMPLETE WITH TASTY BEEF AND COUNTRY VEGETABLES
BENEFUL ORIGINAL
PURINA CAT CHOW
Conclusion
Nestle focuses on product innovation and has expanded its product portfolio with innumerable Nestle products. The company has taken into account behavioural, geographical, demographic and psychographic differences to create a Nestle marketing strategy that is consumer relevant and important.