Introduction
Swiggy is an online food-ordering platform. It connects people with restaurants. People can use Swiggy app or website to look for eateries around their area and order food from them. Swiggy has a team of delivery executives who pick up the orders from the restaurants and deliver it to the address provided by the customer. In this article, we have put in the marketing strategy of Swiggy on its grounds of Marketing mix, its STP and many more.
Swiggy aims to stand out by offering curated lists of restaurants and services and has its own fleet that picks up orders from restaurants and deliver them to the customers.
The business and revenue model of Swiggy are based on a hyperlocal on-demand food delivery business operation. Swiggy works as a bridge between restaurants and customers through an innovative technology platform that works as a single point of contact.
Swiggy focused on expanding their logistical network and forging partnerships, due to which platform developers were able to overcome the challenge of getting eateries to adopt their product. Swiggy operates on a dual partnership model.
Product Mix
Swiggy the food delivery platform offers a variety of quality services to satisfy its customers' appetites. It helps customers connect with their favorite restaurants with just a tap on Swiggy app and Swiggy website.
The company offers a variety of delectable services, including services like online food ordering and delivering food, its main service, and Insta Mart, a more recent addition with delivery time efficiency.
Swiggy Go, Swiggy launched this express delivery app their own growing fleet which caters to customers with an insatiable desire for speed and convenience.
There is a subscription-based service called Swiggy Super/ One. Through this service, customers can benefit from exclusive deals and discounts, quicker delivery, and more access to a variety of eateries.
Swiggy Ads, the company's in-app advertising platform, enables partner restaurants to precisely and successfully reach their target market.
Swiggy Fresh, the company's service for ordering fresh fruits, vegetables, and other food items from local markets.
Swiggy Access Kitchen, Swiggy offers an opportunity for restaurant partners to gain rent-free access to fully-equipped kitchens, in areas where they don't have their own presence, to optimize more delivery services, making it a win-win situation for both restaurant owners and customers in under-served areas.
Price Mix
The company expertly combines several pricing techniques to attract price conscious Indian customers and keep them loyal for as long as possible.
Swiggy also provides a variety of discounts and promotional offers to entice customers and boost sales, such as cashback incentives, discounts on the total cost of the purchase, and exclusive deals for customers who use specific payment methods.
Furthermore, Swiggy One is a subscription-based service that provides exclusive discounts, faster delivery times, and other benefits for a monthly or annual fee.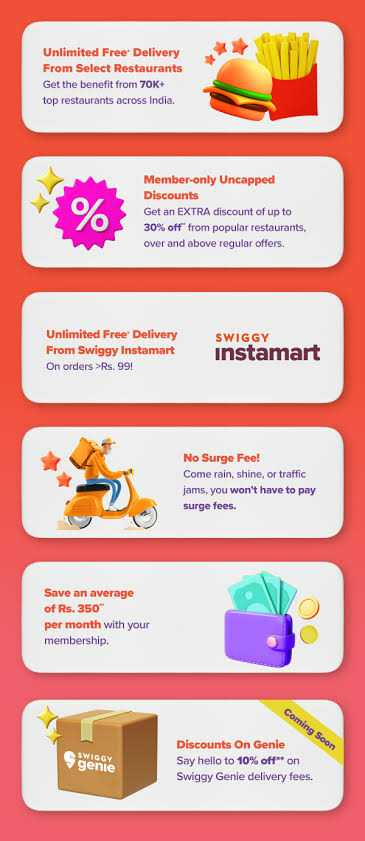 Swiggy also levies a nominal delivery fee for its services, which varies according to the location, the time of delivery, and the distance.
Place Mix
Swiggy is revolutionizing the food delivery market by making it easier than ever for customers to get quality food delivered at the doorstep.
Their user-friendly website and smartphone app make ordering, tracking food orders, and finding nearby eateries simple.
Their network of delivery partners goes to great lengths to ensure that your food orders arrives hot and fresh.
They also provide convenient pick-up locations where you can pick up your order directly from the partner restaurant for those who prefer to eat in. Because of their connections with over 150000 restaurants, they provide a wide range of cuisines.
Swiggy is planning to diversify its delivery services by not only providing food delivery but also developing a delivery system for medication, groceries, gift shops, and flower shops to expand its presence in India's delivery industry
Promotion Mix
Swiggy is now a very reputed brand and it's not just because of its quality services but due to its excellent social media strategy. On Facebook itself, Swiggy has 174K followers which are highest among the competitors.  Every campaign of Swiggy is remarkable as they are extremely engaging and is very interactive.
Social media marketing
Their Facebook, Twitter, YouTube, Pinterest, and Instagram accounts are a veritable treasure trove of relatable and humorous content, from witty one liners to meme marketing strategies designed to keep you coming back for more.
Email Marketing:
Swiggy has a highly successful email marketing strategy for interacting with millennials and Generation Z. They use eye-catching visuals and enticing subject lines to capture the reader's attention and personalize their message.
Additionally, they provide emails on current events and trends that combine humor, useful advice, coupons, and discount codes.
In-app advertising
For businesses, Swiggy provides in-app advertising options. The performance of advertisements, including banner ads, sponsored search results, and sponsored content, can be monitored using metrics like click-through and conversion rate.
Advertisements can also be targeted to particular demographics. The cost of advertising depends on variables such as the type of advertisement, the targeting options, and the advertiser's budget. Swiggy earns advertising revenue from the restaurants featured on their app
Customer Analysis
Swiggy's target market includes college students who cannot cook independently, working professionals who order during office hours, and families who prefer to skip cooking on certain days. And people who dislike going out to buy food and prefer to order food online and have it delivered to their door.
The restaurants which serve as delivery partners of Swiggy are also Swiggy's target audience.
STP
Segment
The sharpness of their target group understanding is well reflected in the desi pop attitude reflected in their breezy and humorous communication.
The focus has been on the millennials customers and all the brand-building efforts have been made to make Swiggy their go-to-app when it comes to food delivery. Under behavioral segmentation, it has found a market segment who find look for convenience when it comes to food and prefers staying at home and having a quick meal.
Target
Swiggy sharply targets the 18-35 demographic, which has easy access to smartphones, is digitally savvy, and looks towards online platforms to satisfy their daily needs. These include students who cannot cook independently, working professionals who order during office hours, and families who prefer to skip cooking on certain days.
Positioning
Swiggy has made the food delivery not just an extended arm of restaurants and has profited well out of this business. The main positioning strategy of Swiggy is an app that helped customers get the food they want, wherever they want.
Conclusion
Swiggy's extraordinary success is the result of its unwavering commitment to innovation and technology focus, even in the face of setbacks. Businesses must constantly innovate and adapt if they want to stay ahead of the competition.
Overall, The Swiggy marketing strategy has been crucial in fostering the business' expansion and securing its position as the industry leader for Indian food. Swiggy has indeed become an integral part of our lives and something that we look forward to.